What position do you hold at Jakera Adventures? What led you to join them?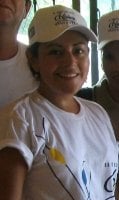 Jessica: The position I have at the moment is Manager of Operations, Spanish Instructor and Volunteer Programs Coordinator. Originally, I worked as a volunteer in Jakera lodge in Merida as a Spanish Instructor three years ago, before I finished my major in Modern Languages. I got here by chance, because I never thought I was going to be part of Jakera staff.
I really liked my volunteer position because I was practicing my English skills, and it was in a nice environment with a kind staff running different programs from tourism to volunteer and working with children. And also, the fact I was in my own country and meeting people from outside with different cultures and learning from them was wonderful. Then Mercedes (Jakera Merida Manager) asked me if I wanted to work in the east of Venezuela and I could not say no.
What do you most enjoy about your role?
Jessica: Such a good question!! It's really nice for me to act as an intermediary among cultures! A lot of people from abroad come here to volunteer, and they are willing to help others but they do not know how. Then it's when I do my part, because we have to meet people from poor neighborhoods, different organizations and institutions, talk to them about the projects they need to be done, and then make real what they need with the help of foreign volunteers.
I also teach them part of my Venezuelan culture and teach them Spanish and slangs for them to communicate in a closer way with the people they help. It's pretty interesting how all these things come together and there is a final product at the end. That's what I enjoy the most!
Did you volunteer abroad? If so, where and what inspired you to go?
Jessica: Yes, I did. I went to Toronto, Canada. That's another story; I did my internship there and one day I found an organization that protects refugees. It's pretty similar to International Amnesty. Its main objective is protecting human rights and giving refugees all types of support to overcome all the suffering they experienced in their native countries.
I cannot tell what inspired me to go there, I just had the feeling to go and help as I could. An outside energy led me to go there and be part of it, but I definitely can say that experience taught me a lot about people, human rights, helping others and also about myself.
What is your favorite story of a volunteer's experience with Jakera Adventures?
Jessica: All volunteer groups and projects are different, so all experiences are unique and positive. Every group of volunteers that comes has an unforgettable experience and leaves full of learning. So all the experiences I've had with these people are fun and I cannot define which one is my favorite.
What should every volunteer considering Venezuela know?
Jessica: All volunteers must be open-minded and patient. Once you are in Venezuela, you will realize that a small percentage of Venezuelans speak English. Also, do not be paranoid about crime. While currently Venezuela is not on top of the safest countries list, I suggest you not believe all the negative comments that are said about it. And while certain areas, such as the outskirts of Caracas are not a good example of safe places to be, we do have plenty of cities and towns that are looking forward to being discovered by travelers.
As a foreigner, you have to be aware of your belongings, and places especially at particular times) you must not hang around. But you also find loads of kind people willing to help you out anytime. The only way to discover this, however is experiencing Venezuela for yourself. I'm pretty sure you will like it and invite you to come visit! Viva la Vida!!