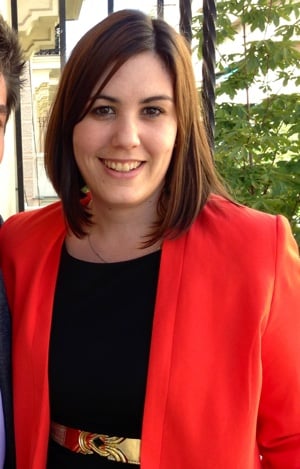 What position do you hold at TtMadrid? What has been your career path so far?
Laura: I am the Director of Studies at TtMadrid and my main job is to train and support all new TEFL teachers that decide to embark on a new adventure of teaching English here in Madrid. I moved to Madrid permanently in 2008, completed the course with TtMadrid myself and went on to work in a number of world-renowned companies such as Johnson & Johnson and Real Madrid. After four years of teaching classes all over the city, I was approached by TtMadrid to consider the option of returning and becoming the Assistant Director of Studies. It was the best decision I ever made and I have now transitioned into the role of Director.
Did YOU teach abroad?! If so, where and what inspired you to go?
Laura: My decision to find a TEFL course grew after my year abroad in 2005. I had fallen in love with Spain, and was determined to return! In 2008 I started to search for TEFL opportunities in Madrid and instantly stumbled across TtMadrid. Although I had already lived in Spain, what struck me most about TtMadrid was their supportive nature. They not only promised to ensure that I left as a fully prepared, effective teacher, but also promised to help make my new life in Spain that little easier by helping with my legal paperwork and setting up a bank account. TtMadrid has numerous links to agencies, academies and schools and only two days after finishing the course I started a 20-hour job in a huge multinational company. My career really grew from that moment.
What does the future hold for TtMadrid - any exciting new programs to share?
Laura: Here at TtMadrid, we are constantly thinking of new ideas and projects! Every Friday we offer Ongoing Professional Development sessions, which help experienced teachers learn new skills, games and techniques to liven up their classrooms again. These are very much designed around the growing and new demands of the market, such as technology in the classroom, exam teaching, and activities for summer camps, to name a few. TtMadrid is always open to new ideas and loves feedback, which will allow us to be the best TEFL out there.
What about the future of the TEFL industry? How do you think international education will change over the next 10 years?
Laura: The need for English is absolutely booming here in Madrid. Parents are well aware of their children's need for English, companies are demanding higher levels of communicative skills in English and many people are looking at increasing their skills to land better jobs or to move overseas. Telephone teaching has grown enormously over the last few years and I truly believe it will start to dominate the teaching English market here in Madrid. Telephone classes are shorter, but much more intense, meaning that people can fit them into their incredibly busy daily schedules with ease. They are also highly representative of how Spanish people need to communicate in English, given the quantity of international business that is negotiated over the phone.