What position do you hold at GVN? What led you to join them?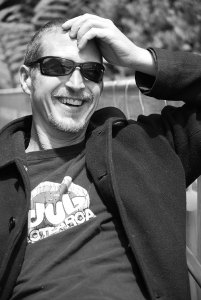 Scott: I am a Program Specialist with GVN which means I am responsible for volunteers who join a program in one of the countries I cover (Argentina, Costa Rica, Ecuador, Guatemala, Panama, Peru, South Dakota, Philippines, Thailand and the Seychelles). I joined GVN after previously being sole charge in a not-for-profit organisation managing volunteers in a mentoring program. After four years I felt the need for a more collegial atmosphere and I was drawn to GVN's global scope and excellent team spirit.
What is the most challenging aspect of your role? Most enjoyable?
Scott: The most challenging aspect of the role is educating potential volunteers on the nature of global volunteering and why it costs money. It is also challenging to deal with those who don't read the information provided or are ill-prepared for the realities of volunteering in a developing country. Complaints about the basic food or lack of hot showers in a desperately poor community can be a little infuriating.
The most enjoyable part is being able to facilitate and witness volunteers connecting with locals and cultures and being fundamentally transformed by their experiences. Also, my generous and caring colleagues who make it all happen.
Tell us about your latest experience volunteering abroad.
Scott: Having only been with GVN for 3 months I've yet to visit and participate in any of our programs. My last overseas volunteering experience was self-directed. I was travelling in the islands off the west coast of Lombok, Indonesia and was stunned by the amount of plastic rubbish accumulating along the coast.
I visited with a local chieftain and organised a program where accommodation suppliers and visitors were encouraged to pick up rubbish around the island and bring it to a central location. It was then bagged up and shipped back to the mainland for proper disposal.
What is your favorite story of a volunteer's experience with GVN?
Scott: My most recent favourite isn't from a GVN volunteer but a couple of travellers who had heard of us and wanted to contribute. They were travelling by van around Central and South America and wanted to donate the van when they were done. I arranged to have them make their last stop with our partners in Panama, where the van is being converted into a mobile children's library for use in remote and under-privileged communities.
If you could jet off to any GVN program tomorrow, which one would you pick?
Scott: That's a tough one. We recently partnered with an organisation working in the favelas of Rio de Janeiro and I would love to see how things are going there in light of the ongoing problems leading up to the FIFA World Cup in 2014 and the Olympics in 2016. If not there then I would love to spend some time at our Amazon Conservation program in Ecuador or with our awesome partners in the Philippines.