What makes studying abroad in Buenos Aires a unique experience for students?
Mónica: We are very far away from the United States - we are at the same latitude as Sydney, Australia and Cape Town, South Africa, although we have a very different culture. Our geographical placement makes us have opposite seasons from the US, so December is the start of summer for us in the Southern Hemisphere.
Buenos Aires is a very unique place because its ethnic heritage is a big mixture of different Western European cultures and indigenous groups. Over 100 years ago more than 50% percent of the population of Buenos Aires was foreign.
Buenos Aires is also a Mega City, with a metropolitan area of more than 10 million people, or 14 million counting the suburbs. Mega cities are great places to learn and to experience many things. Buenos Aires is also a major cultural, social and economic hub in Latin America.
What can you tell us about the culture in Buenos Aires?
Mónica: The culture is different in that people here like to socialize with family and friends much more than in the United States. Friendship is so important here that it has its own holiday. When going to dinner or a cafe with a local, make sure not to be in a rush to leave the table. Locals like to socialize and chat late into the evening. Buenos Aires is a very liberal city, contrary to what many might think.
What level of Spanish proficiency do students need to have before enrolling in this program?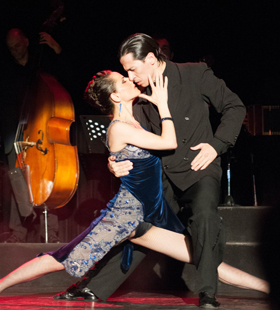 Mónica: It is important to have the equivalent of 2 semesters of college Spanish, preferably more. It is very complex to navigate the city, and unlike other Latin American countries, Spanish is needed to get around. The more college level Spanish a student has, the more he or she will be able to get out of the experience.
What are some extra-curricular activities participants enjoy while studying in Buenos Aires?
Mónica: Students will participate in a city tour, a full day excursion at an Argentine Ranch (estancia), a Tango show and Tango class by a world class Tango dancer, and a surprise event. Students can also participate in CAPA's MyEducation cultural program, which takes them out of the classroom to explore this global city. MyEducation activities include visits to museums, walking tours, lectures and many events that are a bit off the beaten path of tourism.
What is one piece of advice you would offer someone considering studying abroad in Buenos Aires?
Mónica: Any student wanting to participate in the program must research life in Buenos Aires before considering the place. Buenos Aires is a very large, vibrant and metropolitan city and it offers all what a big city can offer.
Anything else you would like to share?
Mónica: Argentina is a great country and while Buenos Aires is a great place, it is also worth visiting some areas inside the country. Students should make sure to research and to study the place before coming to BA. Patience, to be open to other ways of doing things and to embrace other cultures is key to enjoying the experience. Argentina is very unique but it is not a very predictable place and that is what makes it special for students who are flexible.