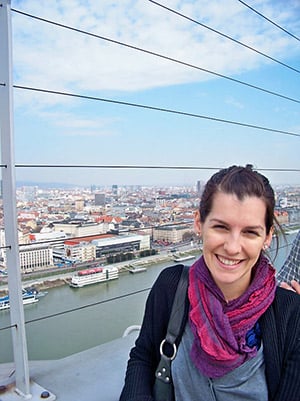 Did you study or intern abroad? If so, where and what inspired you to go?
Nora: I studied abroad for a semester in Salzburg, Austria and again for a semester in Heidelberg, Germany. I was fascinated by the cultural similarities that are embedded in the differences – the idea that there are other countries with basic, similar structures of government, education, businesses, etc. that operate in entirely different languages and cultural assumptions. Living and studying in a foreign environment was a personal and academic challenge that I felt compelled to experience for myself.
Any tips for first time travelers?
Nora: Remember to say "please" and "thank you."
What aspect of working at CAPA inspires you the most?
Nora: We recently invited some of our alumni to our Boston headquarters to speak about their experiences on CAPA programs abroad. It is so rare that I have the opportunity to hear directly from our alumni, and I was blown away by the students' stories of how their semester abroad taught them to be more mindful, tolerant, independent, and engaged. This is really what it's all about, and it's a pleasure to work for an organization that understands this and is constantly working to improve upon and provide more meaningful opportunities for our students.
How do you see the field of international education changing over the next 10 years?
Nora: What a tough question! Reflecting on my own experience abroad as a student ten years ago, I'm amazed how the field has grown in terms of the types of opportunities available. Internships abroad seem to be the norm, as students are seek out more experiential learning opportunities for cultural engagement and professional growth.
With some universities now requiring study abroad or opening up their own campuses abroad, I imagine study abroad in the next ten years will become even more integrated into college missions, curricula, and student life. Such efforts may increase the accessibility of study abroad for students with financial need and from under-represented groups, including first-generation college students and STEM majors. I am also interested in how the field will respond to the national discussion on the cost of higher education, as well as the opportunities for integrating study abroad with online learning models such as MOOCs.
If you had to choose one, which destination would you recommend to prospective students? Why?
Nora: This is an impossible question to answer, even though I have only visited three of CAPA's Global Cities locations, but I'm going with my roots on this one. As a (half) Italian American, I have a rather cliched, but nonetheless authentic, lifelong desire to learn Italian and walk in the shoes of my ancestors for an extended period of time. Go to Florence!
What is one piece of advice you would offer someone considering going abroad?
Nora: Someone once told me that while abroad it is best to, "be less sensitive on the inside, and more sensitive on the outside." It's definitely a piece of advice that has stayed with me, and helped me learn to take things less personally while also being more mindful of my surroundings.