Did you participate in a program abroad? If so, where and what inspired you to go?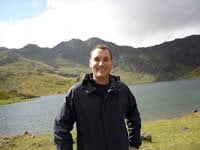 James: I have participated in several programs abroad, and have been lucky enough to visit nearly 50 countries so far. The first program I went on was in my Gap Year after High School when I spent 6 months in Australia on my Work & Holiday visa.
I had not done as well as expected at High School and ended up on an unexpected Gap Year which turned out to be the best thing that could ever have happened to me. This was quite literally a life changing experience for me, I had the most unforgettable 6 months which essentially shaped my career and passion for travel from that point.
What aspect of working at Gapforce inspires you the most?
James: I have spent 13 years working in the travel industry and the past 5 years with Gapforce, where I am currently General Manager, have been by far the best and most exciting. I have a passion for travel. And being able to share my passion.and knowledge with a wide variety of people every day gives me huge inspiration
What separates Gapforce from other volunteer and adventure travel providers?
James: Without a shadow of a doubt it is our field staff who set us apart from other providers. We have been operating for 24 years and have some of the best staff in the business running our programs overseas.
We have an extensive 4-month training course for our Leaders so they are highly trained in every aspect of Expedition Planning and Management – peace of mind for our participants and parents!
If you had to choose one, what destination would you recommend to gap year travelers?
James: We have 40 programs in 15 countries. So it really depends on what you are interested in, as they all cater to different interests. I would advise any young Gapper to contact one of our Advisors who will find out what they are interested in and make some suggestions
What is one piece of advice you would offer someone considering going abroad?
James: My advice for anyone considering going abroad is to just do it! There will always be reasons to delay but you never know what will happen in the future and you don't want to look back and think of it as a missed opportunity. You will love it so just go for it!