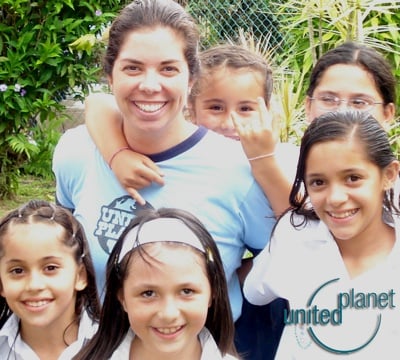 Tell us a little about United Planet and your role at the company.
Theresa: United Planet is a Boston-based international non-profit organization devoted to creating a more mutually understanding, respectful, and supportive world. The organization was built upon the premise of Relational Diplomacy – that relationships forged around common interest (in our case the will to create a better world and to exchange cultures) is the building block for a more united world. Our Quest Volunteer Abroad & Intern Abroad programs fulfill this mission through sustainable, cultural immersion experiences and community-based projects.
United Planet draws its expertise from its full membership and leadership within the International Cultural Youth Exchange (ICYE) - the longest standing (United Nations affiliated) federation dedicated to international voluntary exchange in the world with a 60-year history.
I am the Vice-President of Global Operations which means I manage our International Programs Team - both the staff in Boston and in our program countries. I oversee our Finance and Accounting Department and build new partnerships worldwide to strengthen and grow our programs. One of my most favorite parts of my job is traveling to our program locations to train staff and vet programs. I am so lucky that I get to travel all over the world and work with people who are passionate about sharing their culture with others and supporting their local communities. I am always humbled by the people I meet who work with our volunteers.
How did you get involved in the volunteer industry?
Theresa: Service and volunteerism was a part of my life growing up, thanks to the values of my parents. After graduating college, I served as a Peace Corps Volunteer in Niue, a small island in the South Pacific. It was there that I learned the power of international exchange coupled with service. I knew that this was a field I wanted to be a part of.
What makes United Planet unique?
Theresa: As mentioned before, the underlying principle of our programs is the concept of Relational Diplomacy -- recognizing that the relationship between people of diverse backgrounds is the basic building block for uniting the world. This concept drives everything that we do, and our programs are designed to expose our common human bonds, generate respect and appreciation for our cultural, racial, and religious diversity, and enrich lives of our neighbors worldwide, as well as those of our volunteers.
United Planet offers customized programs for individuals and groups. We personally work with all of our volunteers to match their skills and interests with communities in need. We also thoroughly train our volunteers so as to help them respect local customs and integrate into local life as smoothly as possible, rather than reinforcing mutual stereotypes. United Planet is not just another volunteer sending organization. Our mission and programming supports volunteers' involvement both on the ground and when they return.
In your experience, what characteristics make a good international volunteer?
Theresa: There are many characteristics that make a good international volunteer, but the two we have found to be most powerful are flexibility and awareness of expectations. No matter how much one plans for their volunteer program abroad, there will be things that can not be learned or predicted. Being flexible to the local culture and the host community's needs and assets is required for an international volunteer to be successful. Also, being aware of one's expectations going in to the experience, then letting go of those expectations in the moment, allows for for openness to the experience and letting go of trying control the situation.
What does the future hold for United Planet?
Theresa: United Planet has been growing since its inception in 2001 and is poised to continue this trend. Its strategy is to provide more support for our community partners worldwide while offering its volunteers the chance to learn and grow. International volunteerism is a powerful model when executed responsibly and with sustainability in mind.