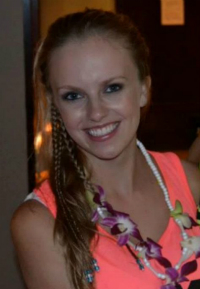 Did YOU study/intern abroad?! If so, where and what inspired you to go?
Georgia: In my last year of high school I spent one month on exchange in Vienna, Austria. I stayed with an Austrian family and went to school in Vienna. Having learnt German at school in New Zealand for 4 years, this was a great opportunity to improve my German.
The inspiration behind this trip was to make the most of my summer holidays, practice my German and travel independently (this was the first time I had been travelling by myself). It was an amazing experience - my only regret was not staying for longer!
What country have you always wanted to visit?
Georgia: I have always wanted to visit South Africa. I have heard so much about this beautiful country. I would love to visit Kruger Park and spend time with the wildlife, and would love to drive the Garden Route (this journey takes at least 4 days and lies between Cape Town and Port Elizabeth. I have heard that the scenery is absolutely amazing. Aside from South Africa, I would also love to travel around the USA and Hawaii.
What does your home country's culture value that is taught in your program?
Georgia: Kiwis value a positive, happy attitude and this is something we try to teach all our participants. What we have discovered from placing people on farms, internships and hospitality programs is that the candidates who gain the most from their experience are those who have a smile on their face and are willing to give anything a go! Kiwis are hard workers and appreciate people who like working hard, too! We have a work hard, play hard attitude.
What is the best story you've heard from a return student?
Georgia: We love hearing from our participants about their time in New Zealand; for example one intern just wrote to me saying the company was fun, full of a variety and diverse tasks and was an amazing time she would never forget. She said she had the opportunity to meet a few stars too when she recorded videos and took photos of Ellie Goulding and Mumford and Sons giving interviews!
She also mentioned that she loved the relaxed kiwi working atmosphere and how she was made to feel welcome by the staff members. After her internship she even managed to fit in a bit of travel too; seeing some of New Zealand's stunning nature and doing a skydive, the Nevis Swing, rafting and surfing. Its the stories like these that really make me feel we are helping shape people lives and immersing them in the kiwi culture and way of life.