Tell us a little about Worldwide Experience and your role at the company.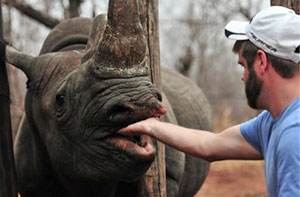 Bronwyn: Worldwide Experience strives to conserve what man is fast destroying – our very own environment and ultimately our own planet. We are the specialists when it comes to wildlife conservation and offer scholars, students and the older generation the opportunity to work on some of the most incredible projects we are closely aligned with.
We cater for School Groups, Colleges and Universities alike. We also work closely together with the disadvantaged communities within the immediate location of each of the conservation projects. My role in the company is the sales and marketing executive for the USA.
How did you get involved in the volunteer industry?
Bronwyn: I grew up in the Eastern Province of South Africa. A province with a very high level of poverty and a low education standard. I have always embraced the diversity of our country, it's cultures, wildlife and beautiful scenery. South Africa is truly a tourists dream.
But there is just so much more to a country… I spent 3 years traveling around the world after university volunteering at various programs and projects. This is really what made me aware of the difference a volunteer can make in such a short space of time. The volunteer industry is not just a job for me, it is something that I believe in and can say really makes a difference.
What makes Worldwide Experience unique?
Bronwyn: Our programs allow our volunteers the opportunity to work alongside wild animals and the interesting people that help ensure their survival. Working with very willing disadvantaged communities also forms part of the make-up of these incredible life enhancing programs. If properly educated and informed these communities can play an integral part in the overall well being of the environment.
World Wide Experience is unique in the way it incorporates so much in one volunteer experience, wildlife encounters, conservation, social development, adventure and so much more. Whatever your interests and passions we have a program tailor made for you. World Wide Experience is part of a larger family called the Mantis collection of which Worldwide Experience is only one of the five divisions, Mantis Education. We believe Worldwide Experience is unique because of how it was founded - on solid conservation grounds.
In your experience, what characteristics make a good international volunteer?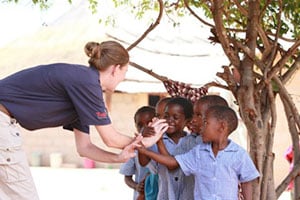 Bronwyn:
Affinity: Establish a Rapport - creating personal relationships to me is key in volunteering. Become at least a small part of that personal network. By building friendships you will gain trust and likely be offered unique opportunities and come away with a much more compelling and rewarding experience.
Flexibility: Roll with the punches - don't have your heart set on one specific thing and that thing only. For organizations to run, multiple tasks need to be covered and often vary based on factors that are beyond the organizers control.
Creativity: Volunteer your imagination - You can make a real difference by imaginatively going beyond the scope of your initial assignment. Sharing your skills and hobbies is a tremendous way to enhance your experience and enrich the people you are working with.
Proactivity: Don't wait for opportunities - consider what you would like to be doing, what you would like to be learning and what needs you yourself can address. This can truly enhance your experience. Be polite, but proactive, otherwise you risk being treated like a guest, not a volunteer you flew across the world to be.
Humility: You're not the boss - keep in mind your placement is temporary and your understanding of the organization, its reality and context is limited. What may seem obviously necessary to you may not be feasible or even understood by your colleagues.
How do you ensure your programs are sustainable and mutually beneficial for you, the community, and the volunteers?
Bronwyn: Every one of the projects we operate is part of a larger conservation management plan - this ensures that it is environmentally sustainable.
For the community and volunteers, we include education as part of every program - our Volunteer coordinators explain the conservation reasons for each project that we do to make sure the volunteers understand and enjoy the programs they help to deliver.
Every project we undertake has specific and measurable objectives, which are regularly measured by a range of World Wide Experience staff, community members and volunteers. All volunteers give us feedback at the end of their programs and if necessary we will adapt the direction of projects and volunteer involvement.
Each community project is undertaken with the full support of the local village and schools to ensure that all parties buy into what we are trying to achieve.