Tell us a little about Volunteering With India and your role at the company.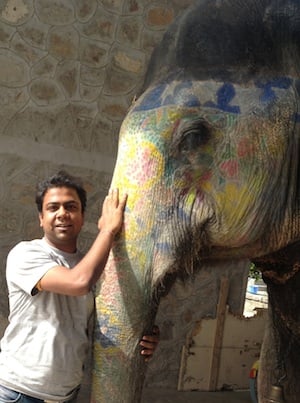 Sukret: Volunteering With India is an Indian based non-profit that wants to unify people around the world to help those in need.
Volunteering With India's founders were originally just a group of friends. In the beginning we used to help local NGO's with their work with the community. We would teach children in rural areas how to use the computers, help homeless children, help kids placed in orphanages, and took part in the women empowerment movement. Next, we got involved in a program that offered theater education to school children and we were amazed at how well the kids performed. After this, we started working with animal care centers in Jaipur and started running an awareness program about animals. All this work led to our desire to build an organization that could handle all these problems.
Currently the organization is running successful programs in the city of Jaipur and in the rural areas that surround it. Our work is about helping children stay in school and give them a better education. In addition, we want to develop their talents, help women become independent and aware of their rights, and raise awareness about animal rights. We hope our work will help develop a more powerful, educated and aware society.
I overlook the marketing and promotion part of the projects and provide online support to the volunteers before they join the project. I am also Relationship manager for the volunteering organizations and with local NGO's.
How did you get involved in the volunteer industry?
Sukret: I graduated with a degree in Commerce and IT. I found a job in one of the India's IT leading firms where my role was to provide computer education in rural areas and send computers to government schools. I went to local schools fixing computers, teaching classes to both children and teachers to give them basic knowledge about computers. After a while, I started doing this for free. This was the initial start that inspired me to get a group of my friends together and start a volunteer organization to help people in need.
What makes Volunteer with India unique?
Sukret: Our foreign volunteers often say they don't feel like tourists when they are with us because they get totally immersed in the Indian culture. This is something makes Volunteering With India unique. In addition, volunteers have said repeatedly that they trust the organization because it is local based organization, has lower fees compared and presents everything in a clear manner through the website.
In your experience, what characteristics make a good international volunteer?
Sukret: First, try to not to feel and act like a tourist. Get immersed in the culture, be open and be friendly with everyone in the community. It's important to respect the culture and tradition of the country. Also, be sure to do the tasks that are assigned to you.
What does the future hold for Volunteering With India?
Sukret: The future looks good for Volunteering With India. The organization is achieving its goals and mission day by day with the help of the team members, partners and local NGO's.