Did YOU intern abroad?! If so, where and what inspired you to go?
Ellen: I created an internship for myself on campus while I did my Masters program at Tilburg University in the Netherlands. It was crucial to me to get some real-world experience interacting with various organizations and individuals while I was immersed in Dutch culture; I didn't want to experience Dutch life only through my studies.
I felt that I gained a much deeper understanding of both Dutch and American communication practices by exposing myself to a variety of interactions I wouldn't otherwise have in classrooms and social settings alone.
What does the future hold for World Internships?
Ellen: World Internships is constantly on the lookout for how we can offer the most to our interns, and our newest additions to our country lineup are Vietnam and South Africa. My coworker Meghan just returned from a trip through Vietnam and had an amazing time; based on her experience, I would love to go visit myself someday!
Personally, I am thrilled to add South Africa to our roster. I've wanted to visit for years and I'd love to see if I could put my Dutch language skills to use learning Afrikaans. I think South Africa is one of our most exciting programs too, as we can do many placements there that can be difficult in other English-speaking locations.
What unique qualities does your company possess?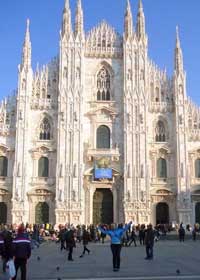 Ellen: World Internships is in the unique position of customizing internships based on individual applicants' needs and backgrounds. It's amazing to me the lengths our on-site staff can go to in finding the perfect fit for our interns.
We try not to over-rely on placements we've used in the past, though we are happy to do so when it seems like a good option. I think what really sets us apart is that we can give our interns the one on one attention they deserve at every step of the process -- while they apply, before departure, and on the ground.
Describe a time when you felt especially proud to be part of the World Internships team:
Ellen: Every time one of my interns lands on the ground in their destination country, I have a little moment where I reflect on how happy I am to be doing the work I do, and helping other budding young professionals achieve their dreams abroad.
I remember how much my work experience abroad helped me discover who I am, what my strengths are, and how I want to contribute to the world, and I'm always so thrilled to know that World Internships can be a part of the similar journeys that our interns are taking.