How long have you been part of the team at GapGuru? What is your role?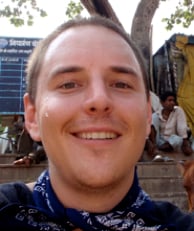 David: I have been working with GapGuru since October 2013 and I am the Thailand Country Director. My role is to host and manage all volunteers in Thailand, manage all local partner relationships, create and develop new volunteer programs, and to ensure all of our community work is being implemented in an ethical and sustainable fashion.
In addition, I lead tours, treks, and various programs around Northern Thailand with GapGuru volunteers! This is one of the best perks of the job, getting to explore Thailand and its wonderful culture!!
What inspired you to join GapGuru?
David: I have been living and working in Northern Thailand since 2009 and started my own non-profit within the next three years. The main project was a conversational English teaching program that grew to include a network of 20-25 temples, schools, and villages. GapGuru was interested in the community work we had developed and we started working with them.
It was an easy decision to work with GapGuru as they have a fantastic team and truly care about international development and delivering unique and meaningful overseas travel experiences. I was also very impressed at the other international programs they had outside of Thailand!
What is your favorite aspect of GapGuru's programs in Thailand?
David: My favorite aspect of our Thailand programs is our local relationships. We have been working with our partner Buddhist temples, schools, and remote hill-tribes for over five years and we have excellent relationships.
When volunteers arrive they have the very unique opportunity to immerse themselves in Thai and local culture. All volunteers are treated like family and often are taken to lunches, dinners, and local festivals by our community partners as they really care about showing GapGuru volunteers authentic culture.
These relationships in addition to how long the Thailand team has been working in country, allows volunteers to see a side of Thailand that most visitors never to get to see.
What is the best story you've heard of a participant's experience with GapGuru in Thailand?
David: There is not one story that sticks out, but an experience that is common. Teaching English in Thailand can be a little intimidating at first, especially if you have never taught in a classroom.
The best part about this is seeing volunteers grow during their time in Thailand. Seeing them on their first day slightly apprehensive and then compare that to their last day where they are teaching great lessons and are fully integrated into the school.
It is always wonderful to see the relationships that volunteers build with the students and teachers. At the end that is what GapGuru is all about: contributing to community development work and growing as an individual!
What tips/insights do you have for travelers considering Thailand?
David: Do it!!
If you are looking to see a side of Thailand that most never see, contribute to meaningful community work, and make life long friends… Thailand is the answer!
Also, before any gap year trip, try not to build too many expectations but rather just prepare yourself for an incredible experience!
Overall, I would highly recommend coming and seeing Thailand and joining our warm community of volunteers, teachers, students, monks, and of course the Thailand team!!!!