What position do you hold at Absolute Internship? What has your career path been like so far?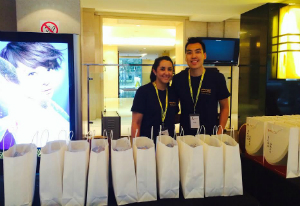 Fredrik: I'm the Director and Co-Founder at Absolute Internship. I graduated from Jonkoping International Business School in Sweden and spent a semester abroad studying in Shanghai as well as a semester in Osaka.
During my semester in Osaka in Japan I knew that a lot of my classmates were looking into internships abroad. Although these students were asking their home institutions for help, it was difficult to land the right opportunities, with support, in a foreign country so I started to help them out and connect some of my friends with companies through my own network back in China but also in Europe. A graduation, a thousand dollars and a few trips around the world later, I launched Absolute Internship together with Aurelie Chouaf with the goal of inspiring success.
What separates Absolute Internship from other internships abroad providers?
Fredrik:
Inspiring Success: We take time to focus on each individual and his or her career development through ongoing follow ups to make sure that the intern is adapting to the new environment abroad as well as inspiring the intern through our Career Speaker Series, where the intern have the opportunity to listen to industry professionals and also talk to them after each presentation, so we don't just set you up with an internship but actually inspire you through presentations from real world industry professionals.
Personalized Housing: We ensure that each intern has their own private room in a Shanghai apartment with access to swimming pool and a fitness center. You will never have to share a room with another intern or live in a dormitory. We believe your housing will have a huge impact on your internship experience, so we ensure you are as comfortable as possible when living abroad.
Community: We have a special Absolute Community in all our programs. Our Program Coordinators are specially trained to make sure that ongoing both sponsored and un-sponsored events are organized every week in order to help the interns to the make most out of their time in China. We receive ongoing positive feedback from past participants about the Absolute Community that we have, and that it feels like having your own family abroad. That's exactly want we strive for.
What does the future hold for Absolute Internship?
Fredrik: Expansion, expansion and expansion. We have grown tremendously fast the last few years and expect to double our student numbers by 2015. We are also excited about our new program location Singapore that has proven to be extremely successful. Consequently, we are looking for additional locations to expand to as we are growing.
What country do you think in an underrated intern abroad destination?
Fredrik: China. Even though the majority of our participants intern in China through our programs, I totally believe that it's an underrated intern abroad destination. If you're a university student or a fresh graduate, I'd definitely recommend you to look into China and secure an internship there. It'll be a eye-opening experience that will set you and your CV apart from the rest.