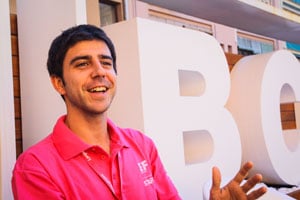 What makes EF Barcelona the best school to study Spanish at?
Carlos: First of all, the school Staff, the students really love our teachers. Then you have the city. Barcelona is an amazing city that combines fun and beach with culture. I think not many cities in the world can combine this as Barcelona does.
During the winter you can also ski on the Pyrenees, only one hour and a half from Barcelona, find adventure sports, many traditional festivals... We have also good weather and nice people. What else can you expect?
What to students like most about your school? What is their favorite activity?
Carlos: The school is really modern. It was remodeled only two years ago. And of course what our students love is our big terrace, where they can chill out on the sun playing ping pong or foosball. They really love to stay there the sunny days.
Regarding the activities, the girls always love the Salsa or cooking classes. The boys really prefer beach volleyball, laser tag or sports like football or basketball. Everyone has their interests. You can find many museums and trips to Ibiza, Madrid, Andalucía, Costa Brava…
Do you have any advice for students who want to learn Spanish?
Carlos: First of all to attend all the classes, that's the most important. Then, I always recommend finding mix with Barcelona citizens. It's the best way to improve a language. The people here are very open and it's easy to know them. We have students who find friends from the city and you see how they improve faster than the rest. We are also here for helping them to achieve it.
What is your favorite part about living in the city of Barcelona?
Carlos: I was born here and I'm still amazed with the city. I love the nightlife, the people… There's many unknown places for most of the people that you discover and you fall in love. I always thought we have everything: Nice beaches on summer, nice snowy mountains on winter, beautiful architecture, natural environments and good food… I love the food here!!