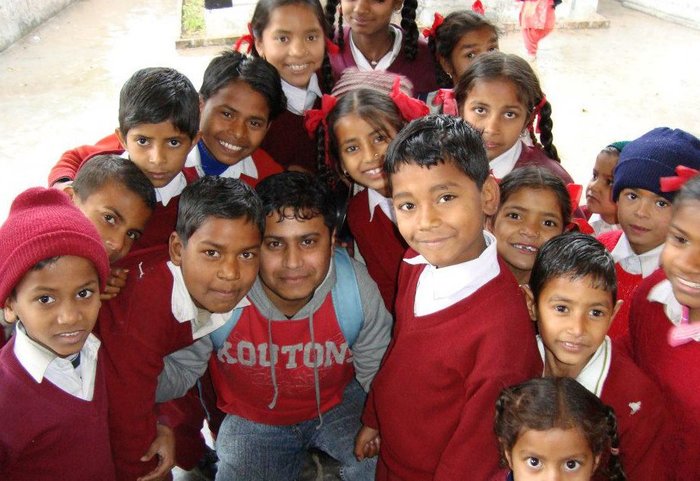 What position do you hold at iSpiiCE? What has been your career path so far?
Varun: I am the Founding Director and am from the Dharamsala region and was educated in government schools. After my education I gained employment with a local NGO, having a dedication to education and helping underprivileged people in India. I built my career in this sector and set up iSPiiCE with 14 years experience. I have worked extensively in slums of Mumbai, Delhi, Goa and the state of Rajasthan and now I'm happy that I am able to help in the area where I grew up.
Did you volunteer abroad? If so, where and what inspired you to go?
Varun: No I have never been outside from India.
What does the future hold for iSPiiCE - any exciting new programs to share?
Varun: iSPiiCE contributes to the sustainable development of rural communities in India, through education and health initiatives. Our main goal is to break poverty cycles and enable people to rise beyond predetermined progression opportunities, based on their current access to education.
In the short term iSPiiCE aims to reach more schools and children in the Dharamsala region and improve the children's access to English and Computer skills training. This will enabling them to leave school equipped with the skills and confidence they need, and the aspiration to continue with their education.
Our Goals
To provide classes to the teachers in Government schools in English and Computers so they are better able to teach their own.
To provide each partner school with 4-6 desk top computers (depending on size).
To set up a computer lab for women's empowerment job skills and computer classes.
To gain new premises to set up our own classrooms to hold after school classes and women's groups (instead of working in people's homes which they very kindly open to us or use).
To increase the women's use of Anganwari centres (and the ICDS scheme), and help Anganwari's to fulfil their function as first line support for mothers and their young children.
To provide for employment of ladies in the local area.
To offer further employment in the area by employing local women (and our own students) to work as iSPiiCE volunteer guides, where they help with translation in classes, lesson planning, and act as a mediator between students and volunteers.
In the long term iSPiiCE would like to run a free independent educational institution, employing its own teachers and continuing to invite international volunteers to supplement learning. To run a iSPiiCE mentally challenged school and orphanage and for this iSPiiCE have already bought a land but iSPiiCE has to construct the building which takes time - 6 to 10 years) so we try to have a continuous flow of volunteers.
What about the future of the industry? How do you think volunteer abroad will change over the next 10 years?
Varun: I think many people are now a days looking for combine volunteer and travel programs and I think in next years there will be more flow of volunteer's who would like to experience both travel and volunteer same time.
Which volunteer abroad destination is most underrated? Conversely, which is most overrated?
Varun: Zimbabwe is one of the most underrated country and Europe countries are overrated.