What position do you hold at Step Into China? What has been your career path so far?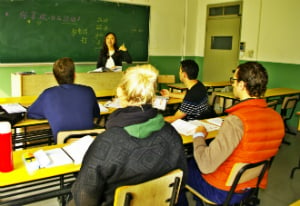 Annie: My major is teaching Chinese as a foreign language. Year 2005 I had my first foreign student, and during my year in America, I witnessed how Chinese language and culture spring up overseas, which made me a Chinese teacher here. When I came back, how lucky I joined in such a professional team and involved all myself into this career. Now it's my 6th year working in SN, and I've helped thousands of students from all over the world to understand China's culture and speak a really native Chinese language.
What does the future hold for Step into China? Any exciting new programs to share?
Annie: Yes, to meet different kinds of demands of foreign people. We just started a new program which is called short-term Chinese discovery. It is mainly provide best language and culture service to people only have a short stay here. We will teach them to speak out very basic but important Chinese language to easy their stay in China. We will also take them to explore local culture like drinking Chinese famous green tea in a tea house, drinking Chinese wine in local Chinese people's home, also might take them to Shanghai's No1 antique street to find something valuable to their friends. Since now, the course is really popular, you have to call to make a reservation in advanced.
What about the future of the industry? How do you think study abroad and international education will change over the next 10 years?
Annie: As past 9 years teaching experience, we can be optimistic to see another steadily growth over the next 10 years. On the one hand, it is no more any surprise that one foreigner can speak some words like "xie xie" and "ni hao", we can see a lot of them can actually speak very fluent Chinese now and seek for higher target, like in our school, about 50% the students have already passed HSK3 or HSK4, and still on their way to strive for HSK 5 or HSK6. On the other hand, these kinds of people will has influence in many ways and bring another group of fresh foreigners overseas get interests in China and start to learn Chinese.
Which study abroad destination is most underrated? Conversely, which is most overrated?
Annie: As to this question, I don't have precise data to answer it. But in my past working experience, the excellent feedback I heard from my previous foreign students about their study in China, and the colorful life I saw during their stay in China, and some of them even start their career or find their Mr/Miss right in China and live a long life here. What I can say is China is somehow becoming a very ideal destination for foreigners to study or live, and there must be more in the future.