What position do you hold at Panrimo? What has been your career path so far?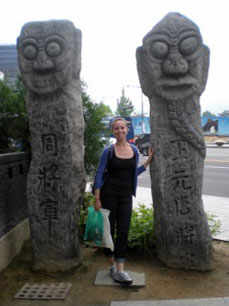 Caroline: I am Panrimo's Intern Abroad Coordinator. I started my career as a high school world history teacher and coach, but after spending six years in the classroom and on the sports fields, I was ready for a new challenge.
As a teacher, I loved interacting with students on a daily basis and encouraging their curiosity about the world around them – and these are two of my favorite things about working for Panrimo! I am proud to be part of an organization that is so committed to their students' global passions AND their educational and professional advancement.
What country have you always wanted to visit?
Caroline: Thailand! I'm obsessed with planning my dream trip! Reading about the independent spirit of the people throughout Thai history makes me want to explore the eclectic cities, trek through the northern regions, and relax on the beach.
Why is language learning and cultural immersion important to you?
Caroline: Cultural immersion is so important because it increases opportunities for true learning experiences. Structured, guided tours can be somewhat limiting, and tend to contribute to the exotification of a country and its people. With authentic cultural immersion, you can become a member of a community rather than a tourist.
What was your favorite traveling experience?
Caroline: I went to the Republic of Korea with a small group of American educators back in 2010, and thus began my love affair with the eastern hemisphere. I've been itching to go back ever since! This trip included cultural excursions, educational seminars, a guest teaching stint, and lots of free time to explore the country. I left feeling inspired by the energy and humbled by the generosity of those I met during that trip.