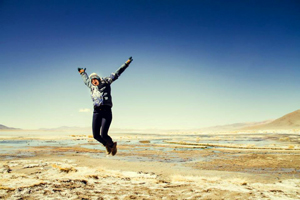 What do you believe to be the biggest factor in being a successful company?
Pip: I think the biggest factor in making a successful company is just the people. People that work hard, work together and that love what they do. I love being a part of a team willing to learn new things, try things out, experiment, take on big tasks and support each other through each and every project. There are always tricks and ways to be more successful, but if you don't have hard working, kind, efficient and passionate people working together, you'll never get anywhere!
What language have you always wanted to learn and why​?
Pip: Spanish- of course! I first wanted to learn Spanish because I was attracted to the colorful and vibrant South American culture. I wanted a way to connect to locals, to be a part of everything and to understand a new culture in a way that I knew wasn't possible without language. The beauty of learning another language is you never stop once you start. Spanish in particular really is so sexy, the expressions, cultural jargon and the way that in not just each country but each REGION, the language is unique.
What unique qualities does your company possess?
Pip: El Nomad really is a company like no other, and that's why I feel so proud to say that I belong to the team. The people are unique, from all different backgrounds, all with different skills, perspectives and ideas. The services that we offer are unique, I find it inspiring to be a part of a company that values cultural and ethical practice more than making money.
We treat each of our students like friends, which is pretty unique. We love taking them places, teaching them about Ecuador and helping them learn from our culture. And our approach to volunteer work- I find that to be very unique. We develop only sustainable projects and strive each time to grow and develop our organizations. Our partnerships are long-term and we've really been able to see the progress made in each of them. We have a special relationship with them and we are accountable to the work that happens there.
What changes would you make to the study abroad industry?
Pip: One of the biggest changes that I would like to happen in the study abroad industry is seeing more students being immersed within truly local experiences. More often than not, study abroad students spend most of their time with other students that are likewise completing a program abroad. While this is not always a negative thing, I would like to providers such as ourselves to put a greater emphasize on facilitating experiences that engage students with local people, culture, food and lifestyle.