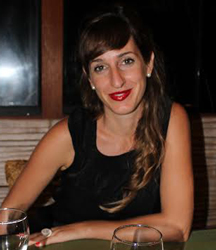 What position do you hold at TEFL Zorritos? What has been your career path so far?
I am the Founder and Head TEFL Trainer at TEFL Zorritos. I studied TEFL in Buenos Aires and I have taught in Argentina, Peru and Australia. I have taught Business English, young children, migrants, international students, petrol engineers, professionals and teenagers.
I was also the Academic Director of a languages institute in Arequipa, Peru and then moved into TEFL training and running my own TEFL business, which is now my greatest passion.
Did YOU teach abroad?! If so, where and what inspired you to go?
I used to work as an Executive Assistant to the CEO of an architecture company in Melbourne, Australia when I decided that I needed to travel and find a job that I was truly passionate about.
The idea was to study TEFL in Argentina and then move on to Europe, however I fell in love with South America and I have basically been here ever since. I've travelled quite a lot and lived in different parts of the continent and I'm always amazed by the diversity and rich culture wherever I go.
What does the future hold for TEFL Zorritos?
I'm excited about what the future holds for TEFL Zorritos, this year we are looking at opening another institute in Peru and also moving into Europe and/or another location in Latin America. The idea is to follow our successful business model of delivering a highly personalized course which adequately prepares our trainees to teach in the real world, wherever that may be.
What about the future of the teach abroad industry? How do you think education will change over the next 10 years?
The demand for English is continually growing, particularly in Asia and other countries with emerging economies -- if you want to participate in an international dialogue whether it's in relation to development or environmental issues, English is the language.
So I think that this demand will continue to grow and as more people have access to technology this will be used more in the classroom as an important teaching aid, through which we can educate our students about the rest of the world while they're learning English which for me is really exciting.
Which teach abroad destination is most underrated? Conversely, which is most overrated?
I think that South America is underrated as a teach abroad destination as it's not as obvious -- most positions are not advertised online and you need to be in the country to find a position, which some people from more developed, Western countries struggle with.
The opportunities in provincial and rural areas are also a hidden gem; when you are the only native English teacher within a five hundred kilometre radius it's incredible how much you are valued by your students and you know that you are playing a really important role in their lives.