What position do you hold at CIEE TEFL? What has been your career path so far?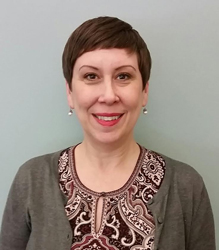 I am the TEFL Academic and Product Manager at CIEE. I made a career change into teaching English to speakers of other languages (TESOL) after about 15 years as a classical singer and voice instructor.
I have taught many different types of English learners in China and the U.S., including international university students in the US, high school students in China, and adult immigrants and refugees in New York City. I've also done teacher training in China and the U.S. I hold a TESOL certificate and an MA TESOL and have presented and published in the field.
Did YOU teach abroad?! If so, where and what inspired you to go?
I taught in China. I was inspired to go for a number of reasons. Like most TEFLers, I love travel, but had not been to Asia yet. China is currently (and was at the time that I went) in a very interesting position, undergoing massive changes and lightning-fast development.
I thought it would be fascinating and it was. There are also a large number of Chinese students studying in U.S. universities, so I wanted to have a deeper understanding of where many of my students were coming from. Although it was challenging, the rewards I reaped, from personal growth to professional development to friendships, far outweighed the difficulties.
What does the future hold for CIEE TEFL -- any exciting new programs to share?
Stay tuned – we have a lot of ideas in the works! Some possibilities are blended courses (partially in-country) and online professional development workshops for working teachers.
What about the future of the teach abroad industry? How do you think education will change over the next 10 years?
Considering the large and growing number of English language learners around the world, the future of teach abroad appears rosy. As more countries open up and develop, I see more opportunities for teachers. Many governments around the world are implementing English learning initiatives, requiring increasing numbers of English teachers, too.
Over the next 10 years, I think we will see more use of technology in all teaching contexts. Perhaps there will be more opportunities for online and blended teaching, but even face-to-face classes will utilize more and more technological advancements.
Which teach abroad destination is most underrated? Conversely, which is most overrated?
Choosing a teach abroad destination is a personal decision. No place is really overrated if it is the destination a teacher desires. I would say Vietnam might be underrated.
A lot more people head to Thailand, but Vietnam also has beautiful beaches, a tropical climate, and a fascinating Southeast Asian culture. Vietnam has been less explored, though, and is poised to develop quite quickly. There are a lot of jobs there, and a sense of adventure and discovery.