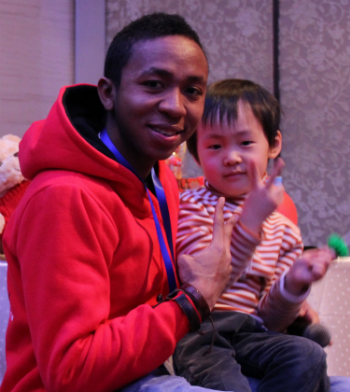 What position do you hold at Au Pair Shanghai and why do you like working there?
Eddy: The first reason why I like working at Au Pair Shanghai is the opportunity to use more languages to talk to clients or my colleagues. I speak 4 languages: French, English, German and Chinese. At the beginning, I just wanted the position where I could use my knowledge of languages and as Au Pair Shanghai keeps in touch with a lot of people and agencies all over the world on daily basis, it was a chance for me.
My second reason is getting some experience. As I'm still at school, I want learn and get more experience and skills through practicing it in the company and have a chance to do a similar job connected to my major. At the end I like the company environment. We all work in a good and friendly atmosphere. We are always in the good mood, supporting each other and we are not only colleagues but also good friends. I think we are a strong team!
What does the future hold for Au Pair Shanghai - any exciting new programs to share?
Eddy: It's been a while already when Au Pair Shanghai was created and there were a lot of changes. Au Pair Shanghai always tries the best to improve and grow bigger. We hope that in the future the international affairs we will get more candidates willing to come to China and that we will also be able to send a lot of Chinese au pairs abroad. We want to develop another part of the international program that will focus on sending interns and recruiting interns.
What is one thing you would tell any future participant?
Eddy: For the future participant, the only thing I would say is to be more open-minded. Don't be scared to make your dream come true. If you want to visit China this Au Pair Program will be a better way and chance to do it. You may know something about China, it might be bad or nice but coming here will help you to find out whether it is true or not. China is a country rich of culture and stories and for sure it will totally impress you.
What do you find most fulfilling about your interactions with au pairs?
Eddy: Meeting amazing people from other countries is the best thing I have ever experienced. I think it is just awesome to see different people seating at the same table, using different languages, discussing, sharing their culture and experience and together exploring life in China.