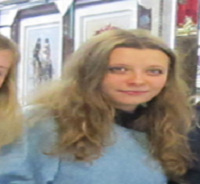 Why is language learning and cultural immersion important to you?
Maria: My interest in language and cultural immersion is a bit more personal. Coming from a European background I grew up in an environment where learning a different culture to my own was always encouraged and led me to always have an interest in understanding other people.
Cultural immersion allows you to grow as a person; you look at things differently and clearer than people who have never engaged in culture exchange. Opportunities tend to be broader when you are more culturally aware of other places, understanding people on a much deeper level helps particularly if your job (like me) is people-focused. It is my interest in cultural immersion that has actually led to me choose China. I think that once you get to a new country and learn their local language, it only makes sense to try and understand the culture as well; this way, living amongst the local people becomes more like an adventure!
Which study abroad destination is most underrated? Conversely, which is most overrated?
Maria: I think there are plenty of other destinations abroad that people haven't really heard about before, and any one of these I would regard it as underrated. I have observed that most people will head exactly to the places that are being marketed well in the media and on social platforms.
Personal preference and educational background also say a lot about which places can become over or underrated. I believe as time goes on, some of the world's most remote places are bound to improve economically and socially, as a result, there will be a shift in the destinations for go abroad programs. Some years from now, I think some destinations especially in South America, Africa and some other Asian countries will experience a rise in popularity and recognition on the world stage, prompting a new desire to visit them.
What country have you always wanted to visit?
Maria: My list is very long! My top ones include Turkey just because I have heard so much about it and it's a crossroads between Europe and Asia, so in terms of culture, it is a must. I have seen photographs and read so many interesting pieces written by people who have traveled through India and its hard not to get hooked.
I am curious about the people, the food and to see what is really true or not about all the things being said in the international media about such a place. Last one, I (secretly) still wish to see the US just because I have met so many participants that join Go Abroad China and are American; they have different stories about the states that they come from and I'm eager to experience this myself.
How have you changed/grown since working for your current company?
Maria: Above all, I have personally learned a lot about how the study abroad industry works. I am now able to do research on my own about how our company is doing in this industry, how to improve our inner workings so that we stay in line with the competition. Also I know the importance of background reading, training and other ways to improve how I deliver services to our clients who are coming to China usually for the first time.