What position do you hold at Smaller Earth? What has been your career path so far?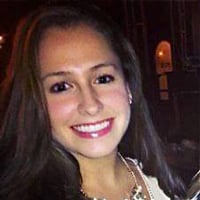 Alison: I am the Customer Service/ Sales Representative for all of our programs that send both U.S and Canadian citizens abroad. My job is to provide assistance for our participants before they begin their journey to a new country.
From initial outreach, to answering as many questions as the applicant might have, I guide them throughout the application process. One day I might be helping a participant get all of their documents ready for our Au Pair Spain program, while another day I could be helping a participant book their flight to Queenstown. I never know what type of question I will be asked, and being able to help others venture abroad is an extremely rewarding experience.
Did YOU teach or Au Pair abroad? If so, where? What inspired you to go?
Alison: Though I have never been an Au Pair or taught abroad, I enjoy being able to live vicariously through all of the participants that choose to go on our programs each year.
The feedback I receive from both our TEFL participants and our Au Pairs is nothing short from positive, and both provide a unique cultural exchange that cannot be found anywhere else. Smaller Earth's TEFL programs allow people to both travel abroad and gain a certificate that will allow them to put their skills to use in any country around the world. Both TEFL and Au Pair programs are perfect for those that enjoy working with others and are passionate about helping them learn English.
What does the future hold for Smaller Earth -- any exciting new programs to share?
Alison: Smaller Earth is always thinking about new and exciting programs that would be of interest to our applicants. With a focus on Work and Travel and Au Pair programs, we are continuously thinking of ways to grow our programs and are hoping to increase the number of locations.
We take our applicants feedback into close consideration, especially when deciding which new partners we would like to work with. Every program offered involves us working with a different partner, to ensure that the participant has support in both their home country and the country they are traveling to. Our newest program, Kiwi and Kiwi, guarantees participants a job for a minimum of 3 months, working at a resort in Queenstown.
Which gap year destination is most underrated? Conversely, which is most overrated?
Alison: With new applicants applying daily, Smaller Earth wants to offer a wide diversity of programs in locations that will appeal to everyone. A lot of people have hesitations about China, as it is very different than the United States, and the language barrier is a huge factor.
Our Au Pair China program is a very unique program, which gives participants the opportunity to immerse into a new culture, while being welcomed into a family's home. The biggest benefit of this program is that it is one of the only two programs that include your round trip flight! To date, there is a huge desire to travel to Australia, which is why we offer three different programs there. Though living in Australia is costly, it is definitely hard to pass up a trip to a place that has warm weather year round!