Why is language learning and cultural immersion important to you?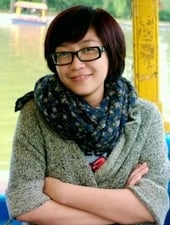 Jiaoyan: I think you cannot separate language learning and cultural immersion as often you see that whenever you pick up a new language, naturally you start to introduce cultural aspects as well. As a Mandarin tutor myself, I always encourage my students not to solely focus on being able to speak Chinese but to get more understanding about Chinese culture as well. When you are in a new country, it's even more enjoyable when you understand the language, people and way of life. Personally, I also feel proud as a Chinese person and seeing all these foreigners making an effort to speak my language especially because I know it is not easy!
What is the best story you have heard from a return student?
Jiaoyan: The best thing for me is getting an email from any former student of mine saying that they are continuing with their Mandarin lessons back in their home country. It feels extra special when the student tells you that everyone back home is amazed at how much improvement they have achieved because sometimes, given the fact that they had settled in a routine life in China coupled with the competition in class, some of their milestones actually just sort of pass by without much recognition. So I am always happy for my students when they look back and acknowledge all that they have obtained especially if their Chinese language skills were lacking before coming to China.
What position do you hold at Go Abroad China? What has been your career path so far?
Jiaoyan: I correspond with Go Abroad China as one of their Mandarin/Chinese Language instructors. My career has largely been about education and language, and I've been engaged in teaching Chinese as a foreign language for several years now.
What about the future of the industry, how do you think study abroad and international education will change over the next 10 years?
Jiaoyan: Looking ahead ten years from now, I think the study abroad industry will have taken a turn from what it is now; the intensity for international education is really strong now and has been so since some years back. However it remains to be seen whether international program will continue to run so consistently. I definitely think the economy will play a large part in determining whether China will still rank amongst the top destinations or will we see some rising economies also. For now though, I think we will still keep some momentum.