Did you volunteer abroad? If so, where and what inspired you to go?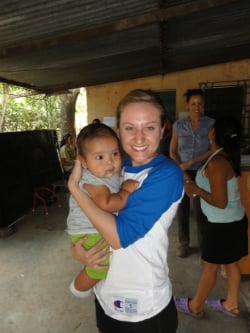 Maghan: When I first began my studies at Clemson University, I explored various degree options, but had trouble finding the perfect fit! During my sophomore spring break, I embarked on my first volunteer trip (with FIMRC!) to their site in Nicaragua. I was so inspired by seeing global health in action that I quickly switched gears to pursue a BS degree in International Health with an emphasis in Community Development. I also continued to volunteer with FIMRC throughout my college career, which took me to El Salvador and the Dominican Republic.
In my last semester, I returned to the Dominican Republic to serve as an intern with FIMRC where, for three months, I worked with MPH students to pilot a nutrition curriculum in rural communities.
What position do you hold at FIMRC and why do you like working there?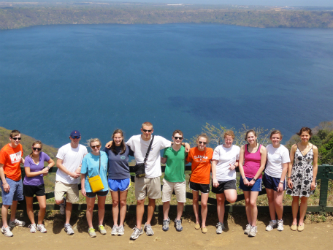 Maghan: Following my internship in the field, I decided I was not quite ready to end my involvement with FIMRC! When the Global Health Volunteer Program Manager position became available, I jumped at the opportunity to work at US Headquarters and I now manage all volunteer travel across our eight locations!
With such a small stateside team, we all wear many hats! While at times, this can be a challenge; I think it keeps things interesting and FUN! Aside from volunteer management, I also collaborate with our video editors and graphic designers and work with our Chaptership Team to support our awesome college groups across the US. Of course, the highlight of my job is being able to travel to our various sites to meet our staff, volunteers, and community members in person!
How does your organization differ from other ones in the industry?
Maghan: What sets FIMRC apart from other organizations is our focus on sustainable community based programs and our commitment to keeping our locations open year round! For our volunteers, this translates into knowing they are contributing to ongoing programs that address current community needs as well as the flexibility to travel during all weeks of the year and for any length of time.
Personally, these two factors are what attracted me to FIMRC in the first place! As a student, I was able to schedule my short term volunteer trips around my university's spring break, and when I had a free semester to devote to a long term experience, there was an option for that too! Also, as a repeat volunteer, I was able to see how small short term efforts can help to further long term projects for many years to come.
How does your program support sustainable projects within the community?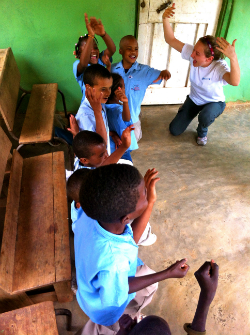 Maghan: FIMRC is devoted to long term sustainable change in all communities in which we work. We begin by conducting an extensive diagnostic to determine the most pressing needs facing the community. We then develop programs based on this baseline data and continually monitor and evaluate our work to ensure positive results.
For our communities, this translates into health education and outreach initiatives based on the population's needs as well as increased access to health services either through improving the current health infrastructure or the opening of a stand-alone FIMRC clinic.
What do you find most fulfilling about your interactions with volunteers?
Maghan: As Volunteer Program Manager, I am so happy to be able to provide the same support to our volunteers that previous managers provided to me! As all FIMRC locations are different, I enjoy working one on one with our volunteers to learn about their interests and skills. I then use this information to identify the perfect fit for their volunteer trip. My hope is that a volunteer's experience with us will fuel a continued passion (or at least ignite a spark!) for global health as it did for me!