What position do you hold at Ben-Gurion University of the Negev? What has been your career path so far?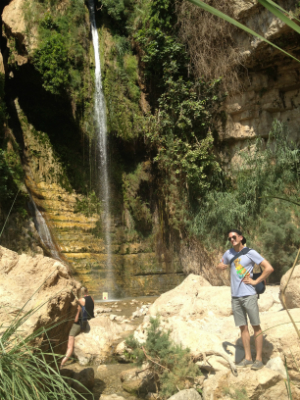 Jonathan: I'm the Coordinator for Recruitment and Student Affairs, overseeing all study abroad applicants from North America to the OSP and serving as the first point of contact for students, parents, and study abroad offices.
A significant part of my job involves traveling to universities and colleges in the US and Canada to attend study abroad fairs and information sessions and to meet with faculty and administrators to promote the OSP.
Prior to BGU, I worked in the study abroad office at the University of Pennsylvania for about nine years. I started as a part-time student worker while I was an undergrad at UPenn and then upon graduation, I was hired as the Resource Coordinator at the office's front desk.
I worked in that position for about three years and was then promoted to a Program Manager, overseeing UPenn's study abroad programs in Australia, Hungary, Italy, the Middle East, New Zealand, and Switzerland (Zurich), as well as IHP run through SIT Study Abroad.
Did YOU study abroad?! If so, where and what inspired you to go?
Jonathan: I spent my junior year in Australia at the University of Melbourne. I had always been drawn to Australia, ever since I can remember, and I knew that I wanted to study abroad in college.
I was actually scheduled to study abroad in Australia for a semester but half-way through I realized that one semester wasn't going to be enough and I decided to extend my stay for an entire year. While it's not possible for every student, I'm a huge proponent of yearlong study abroad because it further allows you to immerse in the local culture and really get to know your host country.
During my first semester in Australia I was still acclimating to the new culture and way of doing things, but by my second semester I felt more like a local and could appreciate the nuances of Australia on a deeper level.
What does the future hold for Ben-Gurion University of the Negev - any exciting new programs to share?
Jonathan: This is a very exciting time for BGU! The university is growing drastically, both in terms of student population and physical space.
The university is consistently voted number one for student life by Israeli students and, in joint collaboration with the city of Beer-Sheva, has begun building a new Hi-Tech park adjacent to campus that is doubling the size of the university and bringing in many well-known international companies.
BGU was voted as one of the 50 Most Technologically Advanced Universities in the world, which has helped Beer-Sheva to emerge as the cybersecurity capital of Israel and is referred to as the country's "Silicon Wadi."
This has trickle down to the OSP with the start of our new semester track in Entrepreneurship & Innovation that coincides with BGU's Innovation Un-Conference, Israel's largest innovation event. The addition of this track complements our existing tracks in global health, Israel studies, and sustainable development that we pride ourselves on being world leaders.
What was your favorite traveling experience?
Jonathan:The experience that stands out most is the month of traveling that I did by myself in Australia. I there for the Australian summer break (December-February) and rather than returning home for those three months, I stayed in Australia and worked in order to save money to travel.
I managed to earn enough to take a month-long trip to the west coast and center of Australia. The reason that this is so memorable is because this was the first time that I had to be entirely independent and responsible for myself.
While it was a bit intimidating traveling alone, it turned out to be a great decision because I wound up meeting such amazing people from all over the world during my travels and am still friends with some of them, more than eight years later.
A lot of people who visit Australia don't make it to the west coast so it was a great opportunity to experience a part of the country that not everyone sees. I grew tremendously as a person during my time in Australia and a large part of that occurred during that month of traveling.
What unique qualities does your University possess?
Jonathan: We understand that providing students with opportunities to immerse in the local culture drastically enhances the study abroad experience and a student's outlook on the world. To this end, all students study Hebrew as part of the program so that they are able to interact with locals and not just hang out with other international students.
Students aren't required to know Hebrew to attend our program and Beer-Sheva provides an ideal location for learning and using Hebrew. A special aspect of our program, in terms of study abroad in Israel, is that all participants are placed in on-campus dorms with roommates who are full-degree BGU students. This allows them to interact with locals outside of the classroom on a daily basis.
Finally, BGU is unique for Israeli universities because it's a non-commuter based institution with the vast majority of students living on or near campus. This creates an unparalleled student and campus life that OSP participants are able to become a part of.