What position do you hold at INTVS and why do you like working there?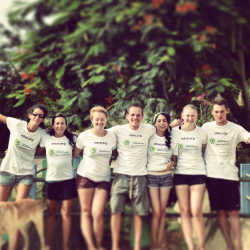 I am the founder and general manager of INTVS, as well as one of the volunteer coordinators. I love my job, as it's also my hobby. I had worked in sales for many years without much passion for what I was doing but then, after my first 6-month volunteering stint in Hanoi, Vietnam about 8 years ago now, I fell in love with every aspect of the volunteer experience.
Form the excitement of the preparation, to the fulfillment of the work, the friends you make, the smiles, the different food, culture…I now play a role in every part of this experience for other people, my objective being for them to come back with the same sensations I did.
Did you volunteer abroad? If so, where and what inspired you to go?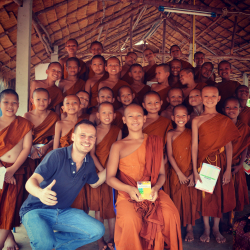 Yes, I volunteered in Vietnam and Cambodia prior to starting INTVS, and have since then volunteered in Peru, Bolivia, Ecuador Thailand, and again in Vietnam and Cambodia. I've volunteered on and covered educational, orphanage, NGO, health, organic farm, conservation and animal welfare programs, amongst others.
The volunteering is different now because I now have to document the volunteer work as well, with the idea to not just get a sensation of the work myself, but also from others.
What inspires me is the knowledge that every time I volunteer somewhere, I have the chance to learn something about a place, its people, and culture in a more 'hands-on' manner, and at the same time give something back. I've always liked cultural exchanges, and volunteering also has this aspect. Above all, it helps people to learn about themselves.
What does the future hold for INTVS - any exciting new programs to share?
In the near future we will not be opening more programs, just so that we can focus on those we have and, with the constant feedback of volunteers and our partners, we will continue to improve every aspect of the experience for the volunteers and the local organizations. Our objective is not to have a vast amount of programs as we want to focus on delivering the best possible service, which can be quite difficult if you are too widespread.
Our fever for volunteering and getting to know new cultures is however irrepressible, and so in the long run, we do envision opening a program in Laos with a potential partner that we have been in touch with for some time now. The program is a small village on the outskirts of Vientiane, where volunteers help local farmers and school teachers…but there is still much to be discussed…fingers crossed.
How does your organization differ from other ones in the industry?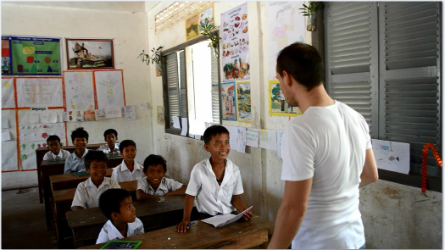 We provide a service in English, French, and Spanish, but above all, we have a very close relationship with all the volunteers we send. We have numerous Skype calls with them prior to their departure, and whenever possible, we have face to face meetings with them (as we have a slowly growing community of volunteers in Barcelona).
We are also amongst the best-priced volunteer agencies out there, with the vast majority of our local partners offering programs that cover food, accommodation, and orientation.
And finally we are completely transparent with our cost structure. We charge a set registration price for our service which is always the same, independent of the volunteer's time abroad, and the local partner has his price, which is completely separate.
In fact, all of our volunteers pay the program fee directly to the local NGO. There is no markup price or commission. The only thing we ask of our partners in return for our sending services is to always respond to any issues that may occur, whereby we can work hand in hand in order to solve these issues swiftly but responsibly.