What country have you always wanted to visit?
Abhishek: I believe travel experiences are more about the people you meet than the places you get to see; not about the number of places you visited, but number of people you met!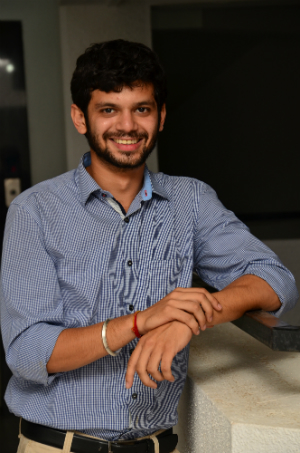 Being fortunate enough to be born, as Mark Twain rightly said, in the country of hundred nations and a hundred tongues, of a thousand religions and two million gods, cradle of the human race, birthplace of human speech, mother of history, grandmother of legend, great-grandmother of traditions it is easier relating to other cultures.
If I had to choose from the 196 countries that the world has to offer and their unique cultures, Greece would be at the top of my list.
Why is language learning and cultural immersion important to you?
Abhishek: Immersing yourself in another culture is arguably one of the most rewarding efforts a human can undertake. By immersing yourself in another culture, you multiply your opportunities.
I think language learning and cultural immersion are inseparable. When you learn a language in a classroom, you do so piecemeal; but when you learn it from the people of the country, you learn naturally like a child.
Imagine yourself being a child again – comparably steep in the learning curve. By learning through cultural immersion, you become acquainted with the way the language is spoken in "real life" which eventually helps you to let go of your fears.
By successfully functioning in a strange environment and under a different set of ground rules from those found in your own culture you tremendously expand your experience. It is for those individuals who have the courage and energy to make the most out of it; and success comes naturally when you realize your opportunities.
How have you changed/grown since working for your current company?
Abhishek: I think study abroad makes you humble! You meet so many amazing people doing incredible things with such simplicity.
I have grown as a professional; I have started believing in quality checks, definitely; but working for this organization widened my perspectives about different cultures and taught me that my way of dealing with things is not the only right way.
Our students taught me that; and I am sure they will keep teaching me. I have been fortunate to be in the city where social fabric is strong.
Visiting and understanding the effort of many institutions towards making Pune, India and the world a better place is remarkable; their simple gestures proving the importance of treating everyone as humans, and accepting their flaws; their stories always making you question your privileges; every inch of their passion inspires you to greater compassion and gentleness.
What was your favorite traveling experience?
Abhishek: Sighting a Royal Bengal Tiger, aptly called the "King of the Indian Jungle" was my favorite travel experience. My first encounter with a tiger happened in Kanha National Park where the territory belongs to Munna.
After a wait of 2 hours, listening to calls of the Langoors, concentrating on the deer's behavior and understanding all the possible alarm calls, Munna came out of the bushes. He prefers to take the road for a majestic walk. He gives you full time to fulfill your wishes.
The approximately 11 year-old tiger by is still protecting his territory as its king.After a couple of photos I decide to just observe the beautiful animal; his walk; the excitement and fear you experiences when he looks at you, is unexplainable. The imprints on his forehead resembling the word 'CAT' are one and only.
What does your home country's culture value that is taught in your program?
Abhishek: Compassion, by giving them exposure to many unique opportunities in India. Students intern and conduct research with many different organizations in Pune, all of which have an emphasis on community development and human rights.
Inclusiveness, by making an effort to involve them in every cultural activity. Our students have attended everything from Hindu festivals and ceremonies to weddings with their host families and Indian buddies.
Also, not wasting food at our many program breakfasts and host family dinners; I think this is the toughest but also the most noticeable value!