What position do you hold at VIA Programs and why do you like working there?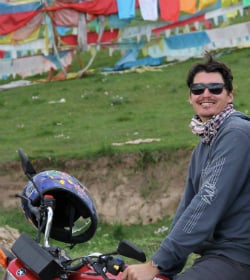 I'm the Senior Asia Programs Director at VIA, which means I focus on all the programs we run in China and Southeast Asia. Working at VIA is my dream job because I'm constantly meeting and working closely with incredible people in the U.S. and abroad, all of whom share a commitment to making the world a better place. I've been at VIA for five years, which has allowed me to develop strong relationships with amazing community leaders across Asia.
Did you volunteer abroad? If so, where and what inspired you to go?
I've taught and interned in China, South Africa, and Peru. Responsible volunteering has always been an important tool for me to learn more about the most important issues in the world and help cement my worldview. Every time I visit a new community, I'm able to learn something that will influence my future decisions. I've always been inspired by the potential that international collaboration has to address issues that can be simultaneously local and global.
How does your organization differ from other ones in the industry?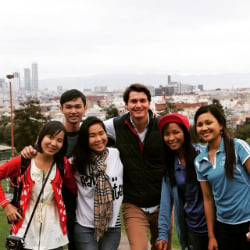 VIA started in the 1960s and is one of the pioneers in creating ethical and authentic service experiences. In most of the places we work, VIA was one of the first U.S. organizations invited by the host government to send volunteers. Early access has allowed us to build decades-long relationships with host communities, partners, and governments.
VIA is also unique in regards to our alumni support. Most of our funding comes from alumni donations and many alumni are able to find job opportunities through the VIA network. Finally, we're leading the way in multiple country exchanges. To the best of our knowledge, our Sports for Social Change Program in Vietnam and Cambodia is the first three-country exchange program to use sports as a pathway to peace building.
Can you tell us a story where the volunteers' work impacted the local community, either as a whole or as a particular individual?
One of our longest partnerships in Burma (Myanmar) has been with a school that provides a bridge for talented high school graduates for receiving full scholarship opportunities to study at universities across the U.S. Our volunteers and fellows have taught hundreds of students who were then able to get a world-class education.
Most of them have returned home to Burma as the country opens up and reform takes place across all sectors. These talented and hard-working students and recent graduates are soon going to be leading the way to a more prosperous and inclusive country and we're proud to have helped play a supporting role in this process.
What does the future hold for VIA Programs - any exciting new programs to share?
VIA has a thriving two-way exchange between Asia and the United States. In addition, to sending Americans abroad, we run programs in Silicon Valley and San Francisco for emerging leaders across Asia.
With 50 years of history and alumni, our next priority is connecting the ecosystem of changemakers across the world. We're also designing more three-country experiential learning and service programs so that our participants can get connected to multiple cultures when they join VIA.