View Other Details

Program Details

Timeframe

Short Term

Spring Break

Summer

Winter

Year Round

Groups

Small Group (1-15)

Medium Group (16-30)

Travel Type

Budget

Family

Older Travelers

Solo

Women

Pricing

Price Details

The Basic package includes 2 Weeks of Volunteering. Every project can be extended and has different rates for extension weeks. You will find them at our homepage. Please note: prices may vary slightly due to exchange rate fluctuations!

What's Included

Accommodation

Some Activities

Airport Transfers

Meals

Wifi

What's Not Included

Some Activities

SIM cards

Travel Insurance

Visa
10 travelers are looking at this program
Iceland - the adventure of a lifetime - welcomes you with an almost unreal nature and its fascinating northern lights. The so-called "Island of Fire and Ice" is known for huge white glaciers, wild black lava landscapes, fiery glowing volcanoes, untouched deep green pastures, impressive waterfalls like Gullfoss and hot thermal springs. Only 29% of the island is inhabited while 11% of the land is covered with icy glaciers and 60% consists of uninhabited highlands and rocky deserts.
Iceland is wild, diverse, challenging and impressive. Parts of the volcanic island can only be accessed during the summer months. Although the landscape has little vegetation, many animals live here such as the famous Icelandic horses, sheep, reindeer, Arctic foxes, puffins, seals and minke whales.
Are you ready to face the island? To protect the unique nature RGV is committed to climate and nature protection. Help us preserve Iceland's wonders and be ready for a time and a land you will never forget.
Program Highlights
Challenge yourself! Explore Iceland - the wild Isle of Fire and Ice
Get individual advice and help with the organization of your entire stay
Accommodation and part of the meals are included
Receive a T-shirt from the project and an internship certificate for your resume
Combine 2 or more projects if you want to try different things and book an optional language course or additional excursions! Get involved with us for climate protection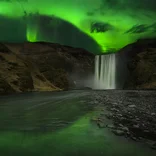 Climate change and global warming affect each and every one of us, so it is even more important that we all work together to protect our wonderful, diverse world. By volunteering in Iceland at the Nature Conservation Project, you will be making an important contribution to saving our planet. You will do a lot of outdoor work to preserve and maintain the island's fantastic nature, for example by planting trees and beach cleaning.