View Other Details

Program Details

Activities

Backpacking

Kayaking

Sailing

Timeframe

Fall

Spring

Winter

Pricing

Price Details

Scholarships, Financial Aid, and Academic Credit available.

What's Included

Some Accommodation

Some Equipment

Meals

Transportation
1 traveler is looking at this program
Nestled in the protected Coyote Bay, NOLS Mexico is your gateway to the coastal desert and turquoise waters of Baja California Sur. Here you'll have access to more than 1,000 miles of mountain and marine environments across two Mexican states. NOLS Mexico is the school's first international campus and our team's cultural, generational, and language diversity give it a vibrant, welcoming atmosphere. Baja California wilderness classrooms range from open ocean to coastal desert—and the outdoor skills you'll learn range from camping and backpacking to sailing and sea kayaking. You might learn how to handle a Drascombe Longboat in the Sea of Cortez or paddle a kayak along the coastline, making camp on a different beach each night. While backpacking, you might practice speaking Spanish with local communities or learn about the unique ecology of the region's coastal desert.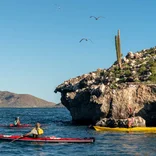 This semester combines a variety of outdoor activities. You'll work on each activity for several weeks, gaining the skills to be self-sufficient in sea kayaking, backpacking, and kayak surfing. As you travel, you'll have the opportunity to gain a deeper understanding of the history and culture of Baja California through formal classes taught by your instructors and your own explorations.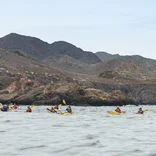 You'll explore its coasts and coves by sea kayak, starting with the basics like paddle technique and progressing to more advanced skills, like self-rescue. As you travel, you'll work on leadership skills like communication and decision making. You'll camp on beaches where you can explore tide pools and spot the unique desert wildlife that also make this area home.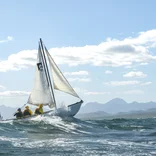 On this course, you'll learn about sailing and working as a member of a team. Learning to navigate by nature's rhythms, you'll explore a sea that's rich with marine life. You'll start with the basics of sailing these unique Drascombe longboats—reading the wind, navigating, managing sails, and more.