View Other Details

Program Details

Activities

Backpacking

Camping

Hiking

Timeframe

Fall

Spring

Winter

Pricing

Price Details

Scholarships, Financial Aid, and Academic Credit available.

What's Included

Activities

Some Equipment

Meals

What's Not Included

Airfare
2 travelers are looking at this program
Discover the rich and varied landscapes of the U.S. Southwest on your next adventure. Arriving on campus, you'll find yourself surrounded by an iconic desert landscape dotted with saguaros and ocotillo. But the Southwest has far more to offer than sand and cacti—the wilderness classrooms you'll explore range from desert terrain to ponderosa pine forests and narrow river canyons. The technical skills you can learn here are just as varied: hiking, climbing, lightweight backpacking, whitewater canoeing, and caving.
Backpack through the "sky islands," isolated mountain ranges that rise up out of vast expanses of desert. Canoe the Rio Grande or climb granite crags at Cochise Stronghold, notable for its cultural and historical importance to the Apache as well as its climbing routes. The U.S. Southwest has a far-reaching and ongoing history of human presence, from the traces of ancient cultures you'll see at Cliff Dwellings National Monument to the stories of indigenous communities.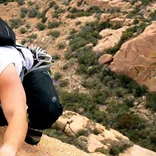 Discover a landscape that's alive with coyote and javelina, mesquite and cactus. On this course, you'll learn the outdoor skills to explore rivers and mountains. Follow the Rio Grande through steep canyons and climb rocks warmed by the sun. Navigate swift-moving rivers and learn about the area's ecology as you move through ponderosa pine forests and river ecosystems. Though the outdoors are central, this course is about more than gaining outdoor skills. You'll also dive deep into leadership!
On this course, rock climbing will be your challenge, whether you're a beginner or starting with years of experience. Head to Arizona's Cochise Stronghold, an area renowned for its climbing and unique desert environment. You'll start with the basics of climbing, as you gain competence, you'll progress to more advanced skills like gear placement, and multi-pitch climbing. After hard days of climbing, you'll enjoy meeting up at your group's camp to cook dinner, and absorb the quiet of the desert.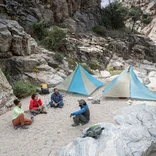 Expand your outdoor skills and pursue your climbing dreams with fellow people of color. Head to Arizona's Cochise Stronghold for nine days of immersive, experiential learning at a world-class climbing destination. Explore the area's granite domes, jagged spires, and winding desert canyons. Work toward new goals at the crag and build community in a POC affinity space.