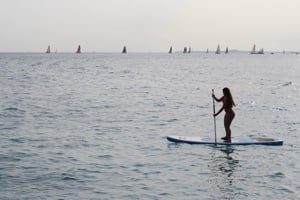 Why did you pick this program?
I was interested in the program, firstly, because of the location. A friend of mine lived in Paris a year before my study abroad experience and had taken a weekend trip to Barcelona. She came back and immediately called me to tell me all about it.
She mentioned that she envisioned me living there if I were to study abroad, so I looked into the program and fell in love with the excursions, course options, and more importantly, the city between the mountains and beaches. I relied a lot on trusting fate and applied only after a bit of research, but don't regret my lack of preparation, whatsoever.
What do you tell your friends who are thinking about going abroad?
I always tell them that it will be the best decision they'll ever make. I believe that everyone's experiences are different and that we, as individuals, have to make the most of our opportunities (especially when diving into a new country with a new culture), but I also know that there's no way to duplicate this experience abroad after being a college student.
It's the only chance we have to go abroad (while gaining college credit) before becoming adults in the real world. It is such an imperative time in our lives to learn and see the world before we decide how we're going to live in it. One important thing that I also mention, is the fact that going abroad is the only way to answer the questions of what it will be like.
What is one piece of advice you'd give to someone going on your program?
I would advise everyone in this program to take EVERY opportunity they're given by the program. It's easy to get caught up in the social aspects of living in Barcelona with a couple hundred Americans, which are awesome too, but the amount of knowledge that is offered through this program is infinite. How great would it feel to say that you went to Barcelona and learned as much as you had fun?
What's your favorite story to tell about your time abroad?
Although I loved everything about my time in Barcelona, I had the best weekend of my life when I took a solo trip to Switzerland. On my trip, I flew into the Geneva, Switzerland airport, took a train a couple hours into a tiny town called Leissigen. Upon arriving at my train stop, I got lost in the quietest, most picturesque town I had ever seen. Its beauty helped redirect my anxiety at the time.
After finding my incredible hostel with the kindest staff, I went into downtown Interlaken to go hang gliding... It was by far the best experience of my life. Flying over the Swiss Alps is a memory that can never be replaced. All in all, I think my solo trip was the highlight of my time in Europe, but Barcelona housed some of the best stories and memories as well. On Thanksgiving, my apartment hosted the most thankful of all Friendsgivings, and we had a huge potluck with people in our program. That was probably my favorite Barcelona-specific memories.
What can I look forward to the most in Barcelona?

Barcelona is full of surprises and hidden gems. Take time to travel through the alleys of the Born and Gothic districts, as well as stroll through the many plazas located throughout Barcelona. Take a look at a local schedule or signs posted around the city to make sure you know when the next music, arts, or saint's festival will happen! They are constant because Barcelona is the most creative, lively, energetic city, and you will always be busy if you do your research. Pack light so you can go shopping...
I can't tell you how much shopping I could have done if my suitcase had allowed it. The shopping is incredible and the local businesses have incredible quality items. Take in as much information about Antoni Gaudi, Picasso, Miro, and other artists featured in Barcelona, so you can recite facts that will make you sound like an accomplished art guru. The architecture and museums in the city make it a necessary city to visit on their own.
Take every opportunity! You never know what could come from taking the train to Alicante for the weekend, working with an intercambio to practice Spanish with, or hiking in the Pyrenees mountains with your program for the weekend. If you have any urge to study in Barcelona, trust your instincts, apply, and experience the best time of your life.