Give us a little intro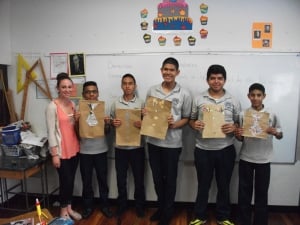 Jessica is a junior Early Childhood Education major at Duquesne University in Pittsburgh, Pennsylvania. She spent 6 weeks working with students that are deaf or have hearing impairments at a school in Costa Rica.
Why did you pick this program?
I chose this program because it had a wide variety of options - flexible start dates, program lengths, and types of projects. There was a perfect option for exactly what I needed and wanted. It was also very cost-effective which allowed me to stay for a longer time than I would have with other programs.
What do you tell your friends who are thinking about going abroad?
DO IT. I encourage everyone to study abroad or travel abroad at least once in their lifetime, especially around the college years. This is the perfect time in our lives to go abroad because soon we will all be making our way into the real world, and studying abroad may not be possible at that time.
What is one piece of advice you'd give to someone going on your program?
I would encourage everyone going abroad to step out of their comfort zone and not be afraid to try new things. Don't think twice about that extra day-trip you are debating on taking - just take it. You never know when you will be able to visit that country again, so why not stay up an hour later to sight-see a little bit longer. Take advantage of the experience you are in, and step out of your comfort zone. By not being so closed-minded, I was able to appreciate my experience more, and get the most out of it, and I encourage everyone else to do the same.
What's your favorite story to tell about your time abroad?
My favorite story was during one of my last days at the school I was volunteering at. Every day, the students got a fifteen minute break when we would go outside and play a quick game of soccer. I always joined in with them, but one day the ground was very wet and slippery as it had rained the night before. As I was dribbling the ball down the field, one of the students tried to take the ball off of me, but while I was trying to avoid running him over, I completely wiped out in the mud. As I was laying on the ground, covered in mud, I looked up and saw all of the students laughing. One girl came over and helped me up and made sure I was alright. When I told her I was fine, she could not stop laughing and neither could I.
After the break, we went back to class and my students couldn't wait to tell everyone. Since they were deaf and did not speak, they signed and acted out my fall. Seeing them act out my gracious fall made the situation even funnier, and it was something that brought me closer with my students. Every day, we joked and laughed about it. I could tell that they weren't laughing to make fun of me; it simply just made our relationship stronger. It was something that I'll never forget, and I hope they won't either.
How did this trip make an impact on you personally?
I feel like this trip really changed me in many ways. It made me much more adventurous and willing to try something new, but more importantly it made me realize how little some people have. A lot of the people in Costa Rica are living in poverty, but you would never realize it based on their actions and attitudes. They continue to work hard and persevere, while still having an amazingly positive attitude in life. They may not have a lot, but are extremely thankful for what they do have. This made me change my outlook in life which has helped me really enjoy the little things in life. I believe that the trip all-around helped make me a better, happier person, and that was something I never would have thought I would get out of it.