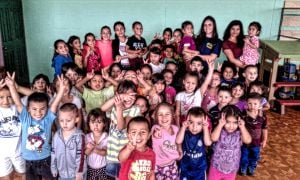 Give us a little intro
I am a social work major with a minor in Indigenous studies at Wilfrid Laurier University in Ontario, Canada. I hope to work with women suffering from domestic violence or work with children welfare services.
Why did you pick this program?
I choose the childcare program because I always had a passion to do volunteer work abroad with children but was also too nervous or scared to actually go through with it, I knew that this would be a great learning opportunity for me and give me a chance to get out of my comfort zone and do a good deed. Randomly coming across IVHQ I made a quick last minute decision to volunteer abroad in Costa Rica that changed my life.
What do you tell your friends who are thinking about going abroad?
Don't think twice. Get out and situate yourself with like minded individuals who share the same passion. Not only will you meet tons of incredible people but it will allow you to grow and learn a lot about yourself.
What is one piece of advice you'd give to someone going on your program?
Go in with an open mind, and be ready for change.
What's your favorite story to tell about your time abroad?
The amazing people I met. My roommates and I were complete strangers that lived in different countries going into the program. We established a great relationship and stood by each other during our stay, and now 8 months later we are best friends and that wouldn't have happened if we didn't try something new.
What was the hardest part about your program?
For me I struggled most with the language barrier. Going in with little to no Spanish speaking background it set me back and made it difficult for me to interact with the locals and the children I worked with. Although I did learn a bit of Spanish during my trip, I encourage to learn the language as much as you can to improve your time abroad.