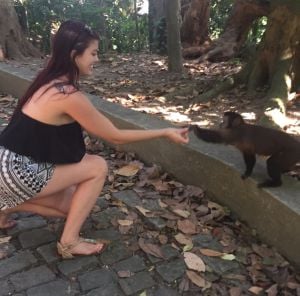 Give us a little intro
I just graduated with my Bachelors in Community Health Science with a minor in Psychology. I am going to grad school this fall to get my Masters in Public Health in hopes of pursuing a career in healthcare administration. I am from the biggest little city in the world, Reno, NV.
Why did you pick this program?
I was in awe of this program because you stay with a bunch of other volunteers from all over the world. It is a great place to meet people and to be truly immersed into the culture of your destination.
What do you tell your friends who are thinking about going abroad?
I told them to be open minded and to truly embrace becoming culturally diverse.
What is one piece of advice you'd give to someone going on your program?
I would tell them to learn about the culture beforehand because it is important not to offend any of the native people with things that you may not feel are offensive in your culture.
What's your favorite story to tell about your time abroad?
I was walking in Pargue Lage in Rio De Janeiro when my friend and I stumbled upon a dozen monkeys. One even approached us and I could tell he wanted some of the cookies I was eating. He reached out his little paw and took the cookie from my hand. My heart was beating a million miles an hour! It was a great experience being able to feed a wild monkey.