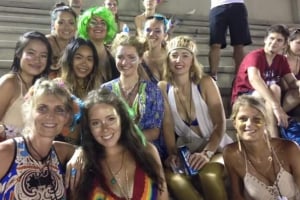 Give us a little intro
Annie has a varied work background with a degree in Visual Arts. As an art teacher at an independent school in Western Australia, Annie's passion for travel and other cultures was intense. With her 'Long Service Leave' approaching, Annie decided to make the most of the opportunity to travel and volunteer overseas.
Why did you pick this program?
I came across IVHQ nearly four years ago while searching for volunteer experiences. I ended up doing an English Teaching Program in Bir, India. I loved it so much I knew I would return to IVHQ one day to complete another program. I saw the Carnaval Program then, and it remained a dream to someday go to Rio and volunteer, helping to make costumes and be a part of the excitement of Carnaval. IVHQ was an affordable option and I liked the fact that it was New Zealand based. I found any interactions I had with the company efficient and well supported.
What do you tell your friends who are thinking about going abroad?
Do it! It will be the best experience of your life! If you are looking for a new perspective, want to give something back, have a desire to learn about new cultures, need to explore different environments, are searching for change, or dream of meeting new friends from all over the world - then this is the perfect vehicle to do so.
What is one piece of advice you'd give to someone going on your program?
My first piece of advice is to research Carnaval and Rio before you go. You'll understand the whole thing better. Secondly, purchasing a ticket online well in advance to Carnaval is cheaper. Finally, definitely learn some Portuguese before you go - your experience will be so much richer.
What's your favorite story to tell about your time abroad?
Haha - I can't tell my favorite story here, but let's just say that I had a wonderful experience in Rio! One of my favorite things in the world is to dance, so naturally I absolutely loved the Carnaval culture of beach by day (Ipanema Post 9), and Samba by night. The clubs in Lapa with their live Brazilian music were awesome.
Annie's Thoughts on Safety:
Is it safe? Well, no, not always. But that doesn't mean you can't be safe - stick to the suggestions and information given to you by Zac and Vivi at Jive Brasil. It is a fantastic support network and as long as you follow their guidelines, you should be ok.