Give us a little intro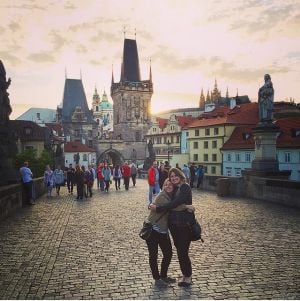 What's your favorite story to tell about your time abroad?
There are so many amazing stories...the people I've met and the experiences I've had will never be forgotten. My favorite professional memory is when one of my students, a man in his early 50's, came to our lesson describing the great success he had recently in a job interview which was conducted completely in English. He was almost in tears by how proud he felt of his progress, and when he said he owed it to me, I teared up as well. Helping someone achieve a meaningful goal which then helps them to achieve further aspirations and make their life better is a priceless experience. I came to Prague with the hope to make a difference in someone's life, and experiencing that so clearly is not something I will ever forget.
On a more personal-life level, my favorite memory was when I prepared an American Thanksgiving meal for all of my new Czech friends. I only had one tiny oven and fifteen people to feed, but somehow managed to pull it off. Everyone loved the traditional American casseroles/hot dishes, and it was a really fun experience. That Thanksgiving marked my one-year anniversary in Prague, and sharing this meal of gratefulness and thanks with all of the wonderful people I had met over my first year abroad was the perfect way to commemorate the time.
Why did you choose Prague?
I chose to relocate to Prague for a few reasons. When I was thinking about what was important for my experience abroad, I wanted to go to a place that no one I knew had been to before. I love speaking about travel and sharing experiences, but this journey needed to be an empty slate for me. I didn't want someone I knew to learn of my news and react with "When I was in...." . This needed to be an experience where I could discover everything for myself. It was a really important factor when deciding where to move. While I truly enjoy visiting other more famous cities and countries, I am so happy that I got to discover Prague on my own. It's an amazing city and I couldn't have chosen a more beautiful place!