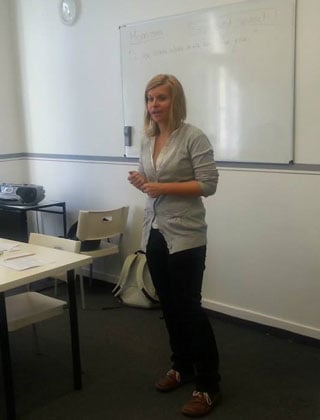 Why did you decide to get TEFL certified with LiveTEFL Prague?
Radka: I had worked as a language teacher (also English) for a couple of years before I joined the TEFL course. I needed some fresh inspiration and wanted to confirm or refute my methods and techniques and to get qualification with an international certificate for possible living abroad. I had read a lot about TEFL in general and had done some research regarding prices, shools and their locations.
Why Live TEFL in Prague? Eventually, it was the language shool I worked for that offered me the course. With special discount for its teachers on top. It helped me decide. This course saved my time and money and made it very simple, because I could study it in Prague where I live. I travel a lot, but I needed a course which is based in my city, because I found it easier in that particular period.
What made this teach abroad experience unique and special?
Radka: I have got enough feedback which a teacher never gets as much as he/she needs. I trusted my trainers - experienced teachers and I think I learned a lot thanks to their professional knowledge. Our group of four was very interesting and made the four weeks very unique! We were from the Czech Republic, England, Scotland and a Czech living in France. Surprisingly, we all could speak very good French. We all vere good at languages, wow. :-)
I have studied linguistics, phonology and a couple of European languages - Charles University, Master studies. But honestly, this course was extremely intensive! I thought I was used to hardworking - but only now, after this TEFL course, I know what "intensive" really means. Oh yes, I shouldn't forget that we got also great training on how to get a job (given by an HR professionals), prepare for a job interview. And we made our professional video CVs (shot by a professional cameraman) that might be also very helpful thanks to its high quality.
How has this experience impacted your future? (Personally, professionally, academically, etc.)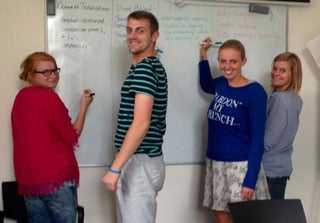 Radka: I have improved my teaching techniques and methods, use more sources and my student appreciate it. I can also see their better results, indeed. I hope I teach better. I am proud of myself because I know the course was hard and I made it. I can travel or even move almost anywhere in the world and I have chance to get a job. My teaching and language weaknesses can be eliminated more efficiently since I know then and can identify them.
What is one piece of advice you would offer someone considering teaching abroad in the Czech Republic?
Radka: STUDY: Make sure you are ready to study hard. This is not an avarage course. It is intensive and will need you all. We didn't have much time for our personal lives. I had to forget about going out in the evenings - I rather prepared homeworks.
TRAVEL: The Czech Republic is a great country and Prague is its amazing Capital. Once you are there, enjoy it! Maybe not during the course so much, but book some time before and after TEFL and discover Prague's history, architecture and great pub culture.
You will be in the middle of Europe, so use it and travel around - you are in Berlin, Vienna, Bratislava or Wroclaw in 3-4 hours, in 5 hours in Budapest, Munich, Krakow (PL), in 6-8 hours in France, Slovenia, Italy, Switzerland, Denmark etc. Get to the Baltic sea as well as the Mediteranean one. Many cheap flights connect Prague with heaps of imteresting destinations.