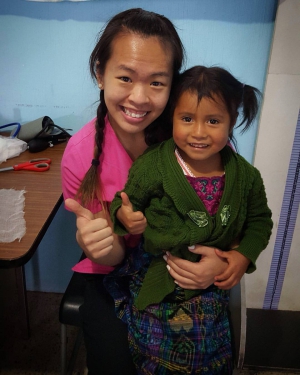 Why did you pick this program?
I picked the medical program because I wanted to see what another healthcare system could look like. A healthcare system functions much like a human body, each part has a function and they all work together to keep things running smoothly (or not). I also have a personal interest in human rights and equal access to the basic necessities to life, such as health care. I come from a healthcare system that has access to the top of the line equipment, supplies, and research. I thought it would be an eye-opening experience to travel to another country and see how their healthcare system works and the kinds of access to resources they have.
I chose Guatemala because I personally love the Latin American culture. I've heard that Guatemala is a culture hub, blending traditional Mayan customs and Colonial ways. I was not disappointed.
What do you tell your friends who are thinking about going abroad?
I encourage them to do it, even if they think they won't like. It leaves you without regret. That was my philosophy. You won't know if you like traveling abroad or not unless you just do it. Just pack your things and go for it. If you can do it, you need to. It is such a learning experience above all. I found that my time abroad left me with a newfound respect for Mother Nature; the volcanoes, landscapes, and environments that I saw were nothing like what I see at home. I also achieved what I went to do in the first place - I was able to be fully immersed in a different country's health care system and was able to witness first-hand the struggles they go through to make ends meet and provide the care that people deserve. On top of that, I learned a lot of about myself - how strong and independent I could be, what my comfort zone was, and how I could push myself beyond my own boundaries.
What is one piece of advice you'd give to someone going on your program?
Be open minded. You might not have the experience you anticipated, and it's important to be self directed to make it the kind of experience you want. There is quite a bit of self direction and you have to be willing to push yourself outside of your comfort zone.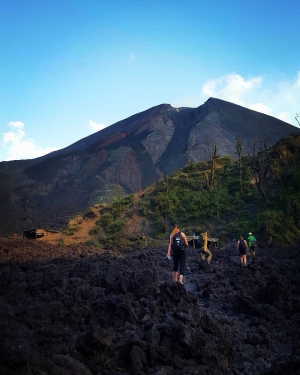 What's your favorite story to tell about your time abroad?
While I was in Guatemala, I decided to do an overnight hike on a volcano. I've hiked a volcano before but I've never camped on the side of one! I hiked Volcano Acatenango, which is right beside the active Volcano Fuego. It was such a wild and challenging experience. You had to carry everything up on your own back - tent, sleeping bag, mat, and supplies. It was a solid 6-7 hour summit, and through a number of different biospheres! Climbing Acatenango was such a once-in-a-lifetime experience and we had insane views of a brewing volcano beside us the whole time.
Do you have any suggestions for packing?
I had my 45-liter backpack and filled it with about a week's worth of clothing, hiking shoes, and walking shoes. I had a small toiletry bag with the essentials like shampoo and my toothbrush. That's about it! You have to pack light and have a new standard of what you call "dirty". I found some antibacterial spray for my clothes and made everything last while I was there.