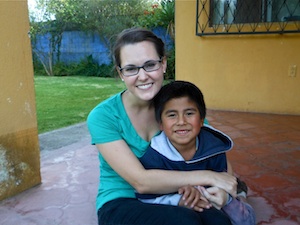 Why did you decide to volunteer with IVHQ in Guatemala?
Colleen: I knew that I wanted to volunteer in an English-Teaching program in a Spanish-speaking country, and researched and contacted a wide variety of programs before making my decision. I chose IVHQ because it was affordable, received excellent reviews, and was flexible with my program placement. Through IVHQ, I was able to teach English, take Spanish lessons at an affordable price, and live in a homestay.
Describe your day to day activities as a volunteer.
Colleen: Each day I would wake up at 7am and eat breakfast with my host family and any other volunteers who were living with me. I would then shower and get dressed, and walk to Spanish class where I would take lessons at the Maximo office for two hours in the morning. There I would gather any materials I needed for my lessons that afternoon, and then return to my homestay for lunch. Around 1:00 in the afternoon, I would walk to the bus stop and take a 40 minute bus ride to the location of my volunteer placement- a suburban city in between Antigua and Guatemala City. I would teach for the next couple of hours- having lessons that were 45min to 1hr with two different age groups of 6-10 students each.
After lessons were over, I would either help the girls with their homework or play with them until about 5:30, when I would leave to take the bus back to Antigua. Upon arriving home, I would eat dinner with my family, and then use the remainder of the night to plan out lessons, do Spanish homework, get caught up with friends and family back home, and read or watch TV. I would go to bed around 9:30PM each night. On the weekends I would usually travel and hang out with other volunteers and explore Antigua.
What made this experience unique and special?
Colleen: My favorite part of my volunteer experience was working with the girls in the orphanage. There were only about 30 girls, and I got to know them all really well over the two month period. I still miss them terribly, and think about them on a regular basis. I would love to return and visit them again.
How has this experience impacted your future?
Colleen: After teaching English with IVHQ, I decided to travel to Ecuador this summer to teach English with another program, the Village Education Project. I realized how much I love teaching and working with kids, and am considering applying for a Fulbright and possibly getting TEFL certified so that I can travel and teach English for a year after graduating from college.