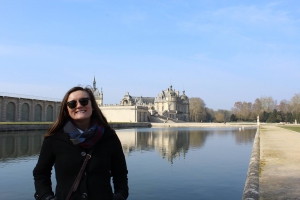 Why did you pick this program?
I chose this program after many recommendations from friends who are previous alumni of CEA Study Abroad. Like me, they studied abroad in Paris. They loved CEA so much, they became involved with the program as alumni ambassadors. At CEA, the staff is willing to go the extra mile to ensure a student's study abroad experience goes as smoothly as possible. This was a great relief to me especially after the November attacks in Paris. I was embarking in January and had many concerns regarding national security, but CEA had all the answers and took many precautions.
What do you tell your friends who are thinking about going abroad?
You've heard it time and time again: "it's a life changing experience" or "I came back a new person". As cheesy as this may seem, it's actually true! For many, this is the first time they have to be independent - cooking and cleaning for themselves, and not to mention having to navigate a huge city where there may even be a language barrier. But perseverance pays off and that's truly why study abroad is so life changing. Learning how to cope with the negatives and maximize the positives was probably the best part of it all.
What is one piece of advice you'd give to someone going on your program?
If you are traveling to a country where they speak a different language from your own, learn it! At the very least, attempt. There is nothing more respectful than walking into a restaurant and having a brief exchange in the local tongue. Although you may make mistakes and the other person may actually speak English, you are making an effort to respect their language, and moreover their culture. After all, aren't you studying abroad to immerse yourself in every aspect of that country?
What's your favorite story to tell about your time abroad?
One day, I was working on an assignment when my MacBook Pro decided to stop working. While I would like to think that I have a vast understanding of technology in English, having to communicate my problem with the Apple Store in French proved to be quite challenging. I managed, however, to get the problem solved by simply asking the employees to speak slowly and in the end, everything worked out just fine! This is probably one of my proudest moments of my time abroad because I had to work through a problem that I don't really know how to express in English, let alone another language.
Erin's suggestions for packing:
"I'm living abroad for four months, how do I pack?!" The answer is more simple than you think! PACK LIGHT. I will even admit I fell victim to bringing more than I probably needed. It's hard to know the weather and climate of your host country so we think we need to have options. However, you will be regretting that when you have to pay 85 euros for an overweight bag (yes, this happened to me). You will be able to buy clothes there, and if your city has huge sales like Paris, you definitely will be taking advantage of that! And last but not least, leave room for all the souvenirs and gifts for loved ones!