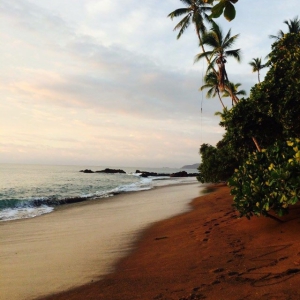 Why did you choose this program?
ISV was my way of solidifying my independence once I left the house and started college. For the first time in my life I had the realization that I could travel without my parents for two reasons: 1) I was 18 and could sign documents without a guardian present. 2) I could actually afford to travel for one month and there was no one who could stop me because it was MY MONEY. That sold me.
What did your program provider assist you with, and what did you have to organize on your own?
ISV has a checklist system in place with contact info at your fingertips. Finding flights and buying travel insurance was all that I can remember making a few extra phone calls for and, even so, the numbers were provided and they organize all of your transportation from the airport once you get to the country until you leave.
What is one piece of advice you'd give to someone going on your program?
I cannot think of anything I was ill-prepared for. ISV outlined everything from packing lists to providing the contact information of our project leaders and sent an electronic country outline which covered anything from national holidays to weather patterns. Use the material they provide! Actually read it! I encourage everyone to experience time abroad. There are pieces of a person that are not whole without culture.
What does an average day/week look like as a participant of this program?
Sweaty. Muddy. Dirty. Blissful. Thankful. Humble. The person I was during those four weeks is a person I hope to find again in myself. This trip changed me forever but there is no time in my life that I have been more at peace with this world and myself.
Going into your experience abroad, what was your biggest fear, and how did you overcome it and/or how did your views on the issue change?
I was afraid that four weeks would be too short of a time to get to know the people I was there with. I can now say that I am closer to those people than many members of my own family. Once you decide to put your regular life on pause and go to a foreign land for four weeks to volunteer and to explore, you've been placed into a new category of people and instantaneously bypass so many steps in the process of socialization. All of the sudden, you're surrounded by people who ACTUALLY are like you. Not someone who likes the same sport or music... But someone who shares the same values.
How often do you find yourself looking back at your time volunteering as inspiration or experience in facing a day to day problem?
Consistently. I learned more about life in one month in Costa Rica than I did in an entire year at University.