What is your role at ISV? What inspired you to join them?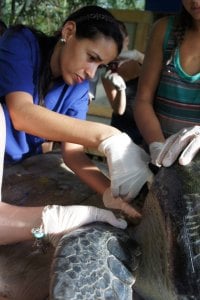 Laura: My role is being a group leader. It means that I work with a group of volunteers on a specific project or program. I joined ISV because I love to work in conservation projects, especially sea turtles projects.
ISV had many years working in Costa Rica in different conservation projects and involving the communities in the places where they have the project. I think it is really important that the communities get involved in these kind of projects. The conservation is not only the work of a few persons, or a few actions of the government or nongovernmental organizations.
ISV's vision is to combine the volunteer work of a conservation program with vulnerable species and providing benefits to the local communities. And that dual focus on conservation and communities is the main reason of why I joined the ISV team.
What do you enjoy most as far as your role?
Laura: As a group leader, I like to work with volunteers because they are people with a spirit of adventure. They also have a passion for conservation, and independent of the country are respectful of nature, customs and local people. I enjoy interacting with volunteers who often teach me new things about different cultures, different practices, and different ways of thinking.
What I like most is to see how the volunteers work with a lot of sacrifice but also with love, enjoying the experience which a beautiful country like Costa Rica gives them. I also love, how lots of the volunteers return to their country with the conviction to come back to Costa Rica and keep helping the conservation programs.
What is your favorite story of a volunteer's experience with ISV in Costa Rica?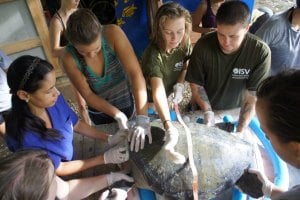 Laura: The experience that I liked most is from a group of volunteers on a sea turtle conservation project in Guanacaste, Costa Rica. That group of volunteers was not only deeply involved with sea turtle conservation, but also with the community where they stayed.
This group helped a woman who had breast cancer. Sh had no money to go to the hospital, so the volunteer group collected money for her, so she could arrive at the hospital to receive treatment.
For me was it was very impressive to see how a group of volunteers from another country selflessly helped a sick person. I think that is an important part of the volunteer experience, to not only help the a vulnerable or endangered species like the sea turtles, but also to be motivated to help people.
What should every volunteer considering Costa Rica know?
Laura: Costa Rica is a country blessed by its geographical location in the tropics and in the middle of the corridor linking North America with South America. Depending on the region, two well marked climates can be observed - the dry season and the rainy season. This is mainly for the Pacific region and the Central Valley, as well as a rainy season almost all year on the Caribbean coast.
Volunteers wanting a hot and dry environment can choose to come from December to April and participate in projects on the Pacific coast. But if they want to enjoy the rainy season, they can opt to volunteer between May and November and choose the Pacific Coast projects as well as the projects on the Caribbean coast.
In coastal areas there are mainly conservation projects related with sea turtles. But there are many other species of animals that can be observed as well as different types of forest and ecosystems. So bringing comfortable clothing and walking shoes, camera, and binoculars is a very useful idea. People in Costa Rica have traditionally been very friendly and it is an ideal country to make friends.
What tips/insights do you have for volunteers in Costa Rica?
Laura: If the volunteers want to visit the tropical rain forest, they can go to the Caribbean coast and the South Pacific Coast, where it rains almost all the year. So they have to be sure to bring a coat with them.
If the volunteers want to visit the dry tropical forest, they can go to the North Pacific Coast. It is important, independently of the region they visit in Costa Rica, that the volunteers always bring sunblock and insect repellent. It is important for the volunteers that come for the first time to Costa Rica to buy a book or read information about this country, mainly about the history, the culture, the main economic production, the religions and also about the conservation history.
Remember that Costa Rica as well as the other Latin-American countries have problems of security, so be careful with you luggage and carry your passport closely. Coming to Costa Rica could be an amazing experience and volunteers can learn lots of things about conservation and Costa Rican culture. The volunteers just have to open their minds to new experiences.