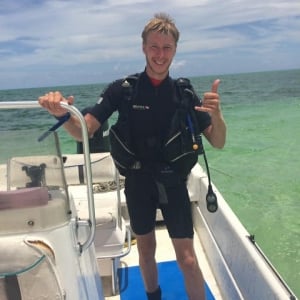 Why did you choose this program?
I had decided that I wanted to go traveling, but I found there was a huge amount of variety in terms of what various groups were offering for gap years and adventure breaks. I'd looked at tours of Australia and Oceania, wildlife conservation in Africa, teaching in Asia, and survival programs in South America, but the "Bahamas Marine Conservation" gap trip that GapForce offered was ultimately the adventure that captured my attention the most.
Scuba diving has always been something that I've been interested in doing. As someone who has always been on the lookout to make changes for the better through charity, volunteering, and a positive and proactive attitude, the opportunity to be trained up to PADI (Professional Association of Dive Instructors) Advanced Open Water and qualify as an Emergency First Responder all whilst assisting in vital conservation and survey work on hugely diverse and amazing coral and reef ecosystems in one of the most beautiful parts of the world, proved too good an opportunity to pass up.
What did your program provider assist you with, and what did you have to organize on your own?
Organizing the trip was a fairly independent affair. It was up to me to sort out what dive equipment I needed (excluding the BCD (Buoyancy Control Device), cylinder and, of course, the oxygen!), arrange the flights, sort out my insurance and plan and arrange any accommodation that was required upon arrival in the Bahamas.
This proved to be quite an interesting experience! It felt rewarding to independently manage and organize your own adventure and see it all come together during the weeks that lead up to departure!
With that being said, extensive support was available from the off, and our Gapforce contact, Lauren, provided useful answers and advice in response to any queries I had regarding flights, currency and arriving in the Bahamas. The Gapforce website also contained a vast array of resources including an arrival guide, a kit list, risk assessment, insurance guide, and science overview.
What is one piece of advice you'd give to someone going on your program?
Don't go into the project thinking it's a holiday. Embrace the fact you're taking part in the project to learn new things, and actually conduct important research into the health and diversity of the reefs and marine life on Andros.
Nothing is more awesome than going on a dive and being able to soak in the beauty of the reefs. The dives become so much more rewarding and fascinating when you can identify what is swimming and living in the waters around the island and understand the mechanics of the ecology that live down there.
You also become a much more effective and safer diver if you listen closely to what the dive instructor has to teach you and tell them if you have any issues or aren't so sure on what is being asked of you with regards to the dive training. If you've done well in the training and worked closely with the instructor, chances are you can control things like buoyancy and technique much more effectively than someone who hasn't! The dives are so much more productive and fun when you can safely hover above reefs without disturbing the delicate fish and coral that you're studying, and know how to float gracefully through the water without accidentally having a head on collision with the person who's diving next to you.
The staff on camp are enthusiastic about what they teach and incredibly supportive! They are all too happy to help you make the most of the trip, so use them if you're ever unsure about something!
What does an average day/week look like as a participant of this program?
Monday through till Friday will usually consist of breakfast at 8AM. After that, the day would normally consist of three dives depending on conditions. Each dive would be either a training dive (for those advancing through the PADI Open and Advanced Open Water courses) or a survey dive for those fully trained up and who had passed the fish ID exam. Learning would sometimes be reinforced with fish/coral point out dives in the first few weeks. Dinner was usually at 6PM and would be followed by a group activity such as "Movie Night", "Quiz Night"
Saturday was a no dive day, and the camp often found themselves going out to explore the island. Blue holes were popular trips out, however we'd sometimes go out and get a taste of local culture and tradition during major local events like "Bahamian Independence Day". Conch fritters were a notably popular discovery during such ventures out.
The evening would often be concluded with a night of bonfires on the beach, smores and snacks, and drinks from our very own beach bar ran by the camps neighbor "Timmy"! Sometimes the group would get creative and have a dress up night, often donning some wonderfully creative but horrendously primitive costumes out of whatever came to hand. Sunday was rest day and Wi-Fi day. It provided the camp the opportunity to rest up, contact home and ready itself for another busy week of diving.
Going into your experience abroad, what was your biggest fear, and how did you overcome it and/or how did your views on the issue change?
Perhaps the biggest fear for me was going into the project not knowing what to expect. I'd never gone diving before, and the only holidays I'd been on in the past were short, family holidays to short-haul destinations like Spain's Canary Islands. Despite this, I had completely forgotten I was even anxious about the trip after a few days! The diving was incredible and I'd already taken to it well within a matter of dives.
The completely isolated nature of the island turned into something to appreciate, not worry about! The peace and quiet was serene, the sunsets and sunrises unobstructed, and the night skies were filled with stars, something you simply can't experience back home in a built up town like where I live. My fellow volunteers were friendly, hilarious and always looked out for one another. They helped make the six weeks I spent away from home some of the most memorable of my life and always made sure that there was never a shortage of fun and laughter on camp. Perhaps the hardest part about leaving the Bahamas was having to say goodbye to the amazing group of friends I made from so many different walks of life and cultures.
I'd say that all this was possible through me taking a positive and proactive outlook on camp life. I'd advise anyone who's considering going on this trip to do the same! Make no mistake, it can be daunting when you realize you're stuck on an island with a bunch of strangers and are going to be spending the rest of your time there having to use basic facilities that are home to a huge number of different creepy crawlies without any means of contacting home until Sunday. But take it for what it is, embrace it as a change of pace and change of scenery and I can guarantee your time in the Bahamas will turn into some of the greatest days of your life!
What's the best thing that happened to you during your six weeks on the project?
Probably hearing our instructor clap his hands underwater and turning around to realize we were being circled by dolphins on our second confined water dive. They were there for about 3-4 minutes and you could see them almost acknowledge you with your eyes! Seeing dolphins swim by on TV simply doesn't justify how incredible it was to be in such close proximity to such amazing and majestic creatures!
...That and meeting the amazing group of people I lived with on camp - both volunteers and staff! They turned out to be some of the most incredible, funny and kindest people I've ever met and I'm sure we'll remain in contact!