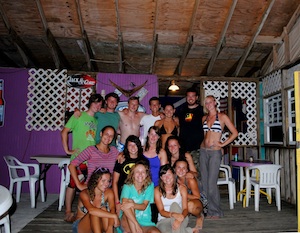 Why did you decide to volunteer abroad with Gapforce in the Bahamas?
Matt: What made me volunteer with GapForce in the Bahamas was essentially the location and the nature of the project they ran. I have always loved scuba diving and have always been keen to visit places I have never been to before.
I had already booked onto a snowboard instructor course in Whistler, Canada, and began my search for a decent dive programme to do afterwards. I had already had a few 'family resort' style holidays growing up, so I didn't want to end up in tourist areas which would have been the same no matter which country I went to. A few of my friends from my work at the time had already done a bit of travelling and they had been telling me about a marine conservation project they'd worked on. I liked the idea of doing something worthwhile at the same time as enjoying myself, so I checked out a few different volunteer organisations and their marine projects, one of which was GapForce.
I found some really great volunteering trips online, but what originally attracted me to GapForce was the location of the project which was in a part of the World I had never visited before. After a phone call to their office, the guy I spoke to was able to answer any questions I had, which weren't too many, so I thought I would just go for it and booked there and then.
What made this volunteer experience unique and special?
Matt: What made my experience in The Bahamas so unique and special was the nature of the programme itself and the location we worked in for the duration of my trip. I had only ever really been to heavy tourist areas of different countries and hadn't really fully experienced a different culture properly.
The research station was on the least densely populated island in The Bahamas and I really loved being nowhere near any tourist resorts or backpackers etc. All the way through you really felt that it was just our group on our own private part of the island.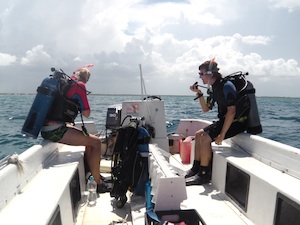 My favourite part of the trip above all others was when we got diving, there were never any other boats in sight and we were able to literally just stop the boat anywhere we wanted and jump in to explore what was below. You got a real sense that nothing we were seeing had been influenced by tourism or any other damaging factors. It was just perfectly natural.
Despite the awesome diving experience I had, seeing my first sharks, sea turtles and huge spotted eagle rays; I would say what made it really special was the people I shared the experience with. The staff were just incredible at keeping us having fun whilst also maintaining a professional attitude towards the conservation work we were doing. The friends I made on the trip will remain so for the rest of my life. We organised a UK re-union around 6 months later and we are due to all meet up again in one months' time!
How has this experience impacted your future?
Matt: My experience in The Bahamas has surprisingly had a huge impact on my life. Once my time there was over, I knew I had finally run out of savings and would need to head back to the UK. I had already completed my degree and would be on the lookout for a 'proper' job. The experiences I had travelling during 2012 taught me that I definitely wanted to get into the travel industry. If I could travel and get a salary at the same time, it would be ideal. Eventually I wanted to set up my own company; but first I would need to get some experience within an already established organisation. So after I returned to the UK, I planned to start applying for jobs within the head offices of adventure travel style companies.
I had had such a great time in The Bahamas, I wanted to make a point of letting GapForce know how amazing I thought the trip was and give my feedback. In the email I sent them, I mentioned that it had helped to inspire me to work for a similar organisation. Then what do you know; GapForce replied saying that there actually was a vacancy opening up in the London office in the next couple of months! Naturally I jumped at the chance. I updated my CV and spent a long time on a cover letter, sent it off and heard back about a week later that they wanted me in for an interview. Around a month and a half later, I was moving to the London area to start my new job on the Sales team at GapForce!
Just under a year later, I am still working there and absolutely love my job!
What is one piece of advice you would offer someone considering volunteering abroad in the Bahamas?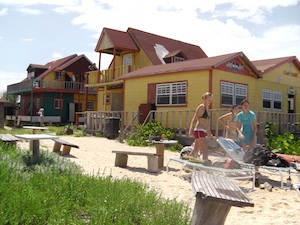 Matt: If I was to offer advice to someone thinking about heading to The Bahamas on the GapForce programme, I would say that you need to make sure you understand what to expect from the trip before you go. Yes, the project is based around diving; however there are other aspects to the volunteering. As well as taking scientific marine surveys, we also worked with the local community. During school term time, we would help out once a week at the primary school. We would teach really basic stuff like body parts, basic maths, and make the classes as interactive as possible. Out of school terms, the same group of kids would come to camp once a week where we would teach them to swim. This kind of work was especially rewarding because you get the same kids each week and start to really see improvements, knowing you had a direct influence.
In terms of expectations, I would also advise that you have to have an open mind and be ready to muck in with a group of strangers. The camp worked a chores system where volunteers would help cook meals, clean and maintain the site in general.