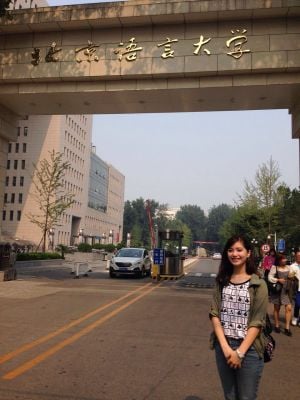 Why did you choose this program?
I chose this program because I really wanted to learn Chinese, my parents were also helping me with this decision to apply and go to China. I have wanted to go to China since I was little, and my year in China was absolutely amazing. At BLCU, I took the intensive Chinese classes because I was hoping to learn as quickly as possibly within a year.
What did your program provider assist you with, and what did you have to organize on your own?
Go Abroad China organized for me to live in the school dorms at BLCU, I was in the international dorm. I selected Go Abroad China because they were the most accepting company and easy to communicate with. In the first semester they helped me with registration at the university but for the second semester I registered by myself.
What is one piece of advice you'd give to someone going on your program?
Accommodation is important, you need to decide what kind of housing you want to live in depending on whether you really plan to study or just enjoy time in Beijing. The new surroundings can be overwhelming, in the beginning it was a little tough for me, but you will be able to meet classmates and roommates who you can become friends with.
What does an average day/week look like as a participant of this program?
I had classes everyday from 8 to 3 with some breaks in between, my program was the intensive one so I guess it makes sense to study for so long. Most lunchtimes I would just eat in the cafeteria. Despite such a full schedule, I managed to join the orchestra and practiced during my free time.