Why did you choose this program?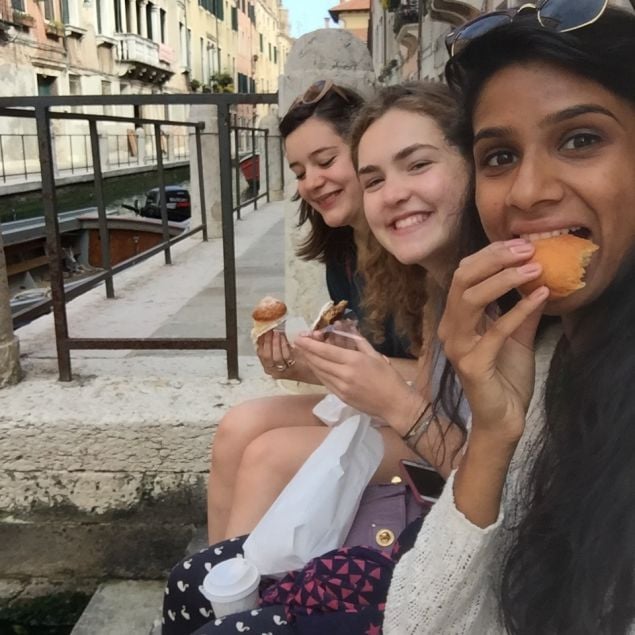 I took an art history class my last semester of high school and it ended up being one of my favorite classes, so I knew I wanted to do something during my gap year that had to do with art history.
I originally found the program online, and later found out that a family friend of mine would be traveling with Art History Abroad at a different time than me. It was really highly reviewed, and six weeks in Italy sounded like heaven no matter what I would be doing!
What did your program provider assist you with, and what did you have to organize on your own?
Art History Abroad planned just about everything for the trip, including transportation within the country (planes, trains, boats, etc.), housing, general day-to-day schedules and the itinerary.
Ultimately what we were organizing on our own was transportation to and from London at the beginning and end of the trip, our budgets for meals and such, and what to do in our free time.
What is one piece of advice you'd give to someone going on your program?
Although it's something that's been hammered into our brains since we were old enough to walk, talking to strangers is one of the best things you can do as a traveller, within reason of course.
You never know who you're going to meet and where that'll lead you.
The best recommendations for food, drink, and more will always come from locals, likewise the most interesting conversation and cultural exchange will occur with locals. So please be safe but to all prospective travelers: get out there and get talking!
What does an average day/week look like as a participant of this program?
Generally we would get up, have breakfast, and have a session in the morning for three or so hours, then break for lunch, have an afternoon session of about the same, and then break again till dinner.
The sessions were really low-key, the tutors were incredibly knowledgeable and there was a lot of walking. One of my favorite parts of this program was how much free time we had, time to really explore the cities on foot and find our own favorite spots, and hidden gems.
Going into your experience abroad, what was your biggest fear, and how did you overcome it and/or how did your views on the issue change?
In general I was a pretty shy, quiet person throughout middle and high school and basically until I started my gap year. My biggest fear was that I would have difficulty finding and making friends and my introversion would get in my way. And though it definitely wasn't an overnight process, by the end of the year, and at this moment I feel like a completely different person and other people have reflected that.
My Art History Abroad trip was the last one in my gap year and when I was telling my group that people think I'm really shy they were incredulous. Even here at college now, my friends genuinely don't believe that I could be or ever have been shy. Not that being shy or quiet are a negative thing, but I learned how to work with my introversion and ultimately how to take care of my self best.
I learned that I can't be with people 24/7, and I need time for just myself to recharge, and when I give myself that time I'm able to be a better friend, community member, etc.
Do you have any recommendations for someone going on your program?
I think the best thing I could do for anyone going on this trip is give a few of my best recommendations for food so I'll do just that for some of the major cities in Italy. Some of these are well-known and easy to find, while others are hidden, obscure and sometimes impossible to find, so bear with me.
Venice: Colussi, Pizza Il Volo, Caffe Bar, Gelateria Nico, Trattoria Dona Onesta, Grom, Fruit Barge (Campo San Barnaba), Taverna del Capiello Remer.
Florence: Fratellini Sandwich Shop, San Lorenzo Mercato Centrale, Eataly, Trattoria Zaza, Perche No Gelateria, Art Bar, Fiaschetteria Cambi.
Rome: Trattoria da Agosto, Pasticceria de Bellis, Trastevere, La Boccaccia, Perdincibacco, Giolitti, Pimm's Bar, La Quercia, L'insalata Ricca, Porto Pettese, Bar del Fico, Freni e Frezione, Shari Vari.
Hope anyone headed to Italy can enjoy some of these!