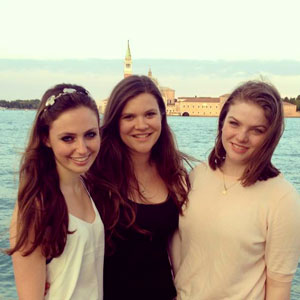 If you could do-over one thing, what would it be?
Maya: If I could do anything over again, I would have been with Art History Abroad longer. I did not take a gap year, but joined the end of Art History Abroad's Italy program. I traveled through Europe with a friend and ended my trip with AHA, but I wish I had simply joined AHA for the entire trip. All of the people were so wonderful. I had so much fun, learning about the art in Venice, enjoying the food and, most importantly, the having fun with the other students and the tutors. It was an amazing, once in a lifetime trip, and I wish I could have experienced it longer.
What are some of your favorite memories from your trip abroad?
Maya: Every experience with AHA is one I couldn't have had at home. First of all, I got to meet great people from all over the world, and I keep in touch with them to this day. AHA was such great way to meet people I wouldn't have met otherwise. Additionally, the art we were able to see and learn about was something you can't get at home, even in a class (trust me, I tried). Art History classes in college simply don't hold a candle to the sessions with the AHA tutors. Traveling with AHA was also special because even if I had gone to Venice with family, I wouldn't have known where to eat, or what buildings to explore, and with AHA you simply get the best of each city.
What is one must-have food from the city that you visited?
Maya: The must-have food from Venice I would say was the food from a small restaurant a few blocks away from our hotel. One of the AHA students went running every morning, and on one of his runs in Venice he stumbled across a small restaurant with one chef, and she was the owner. I was lucky enough to arrive the day about six of the students decided to have dinner there. The woman came over to us, looked at the seven of us, and told us she would rather make large plates for us to share family-style than to have us order individually. We agreed and waited hungrily. The food that came out was simply the best. Homemade gnocchi, Carpaccio, creamy pastas, and vegetable dishes that I could live on were served. It was a great way to begin to get to know people, and certainly the best Italian food I've ever had!