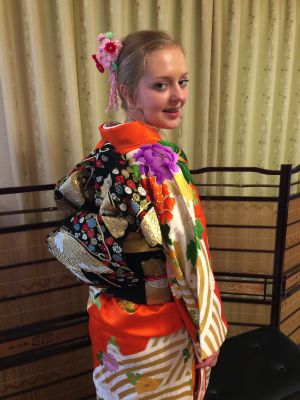 Why did you choose this program?
I choose this program because I have been interested in studying abroad for as long as I can remember. I heard about the program during my freshman year of high school and it sounded like a great opportunity to experience a culture other than my own.
What did your program provider (or university) assist you with, and what did you have to organize on your own?
Youth for Understanding took care of nearly every aspect of the exchange program. They placed us with a host family for the summer as well as took care of all of the travel details. They sent us our flight information and coordinated activities for us during our stay in Japan.
Youth for Understanding volunteers met me at the train station closest to my home and accompanied me to my first day of school. The only thing I had to do on my own was obtain a passport as well as get the required immunizations for the trip.
What is one piece of advice you'd give to someone going on your program?
Realize that you have a limited amount of time in the country that you are an exchange student in, and make the most of that time. Do not be afraid to try as many new things as possible and definitely keep a blog or write in a journal during your stay. You will thank yourself later as you are able to look back on all of the memories that you made there.
What does an average day/week look like as a participant of this program?
For my exchange each week was different because I only spent six weeks in Tokyo, Japan. The first week of my stay I attended a traditional Japanese high school just to be able to experience the life of a Japanese high school student.
The next five weeks were mostly spent exploring Tokyo with friends that I made on the exchange as well as spending much time with my host family. I usually woke up around five in the morning and my host family and I had breakfast around 6 or 6:30. Then my host brothers would leave with their dad around 7 to drive 30 minutes to their school out in the mountains. I went with them a few times and also attended their school for a week.
Some days I was able to stay home with my host mom and helped her around the house, and she showed me around some places near there. Other days I explored different areas of Tokyo by myself as well as souvenir shopped.
Going into your experience abroad, what was your biggest fear, and how did you overcome it and/or how did your views on the issue change?
Going to the experience abroad I did not really have much fear. I was mostly excited at the opportunity for a grand adventure. I love being able to travel and could not wait to arrive in Japan.
My only worry was was the anticipation of meeting the family that I would stay with for the entire summer. I had been in touch with with my host family prior to meeting them in person, but did not know how to express my gratefulness towards them for hosting me for the summer.
Not knowing what to say as I met them made me the most nervous. However when I meet my host family in person for the first time I felt completely comfortable with them and by the end of my exchange program they became my second family.
What were the greatest cultural differences that you experienced during your time abroad?
Going on exchange provides so many opportunities that can not be imagined until one experiences them for themselves. I learned so much especially how culturally different Japan is from America.
The biggest adjustment was learning to remove my shoes as I entered my host family's house as well as all other Japanese households. Replacing my shoes with house slippers became part of my new normal for the summer and upon returning to the United States, it took some time adjusting to wearing shoes once again.
I also learned the importance that is placed on gift giving when visiting someone's home for the first time as well as giving gifts of appreciation as the Japanese people do quite often. During my stay I received many gifts and also gave many gifts that I had brought with me.
I ate many foods for the first time as I learned to try everything that my host mom cooked for us. I really fell in love with Japanese food with the exception of nato, which is a sticky fermented soybean paste.
I was able to experience being one of the few Americans in the area of Tokyo where I lived for the summer.
It was odd being the only blonde haired, fair skinned girl in a sea of Japanese people. I had many people tell me that I was kawaii ( the Japanese word for cute), or that I had beautiful eyes. Their complements were odd at first, but I soon realized that not many people had seen someone with blonde hair and hazel eyes before.